Planning a 4WD Camper or Motorhome Trip to Arches National Park
If you are going to be traveling to Denver or Las Vegas, it is worth your time to hop into your motorhome, campervan, or 4WD camper and plan a trip to Arches National Park in Utah.
Arches National Park is located approximately five and a half hours from Denver and a little more than six and a half hours away from Las Vegas. Because the drive takes some time and there is so much to see at the park, you should plan several days for this trip at least.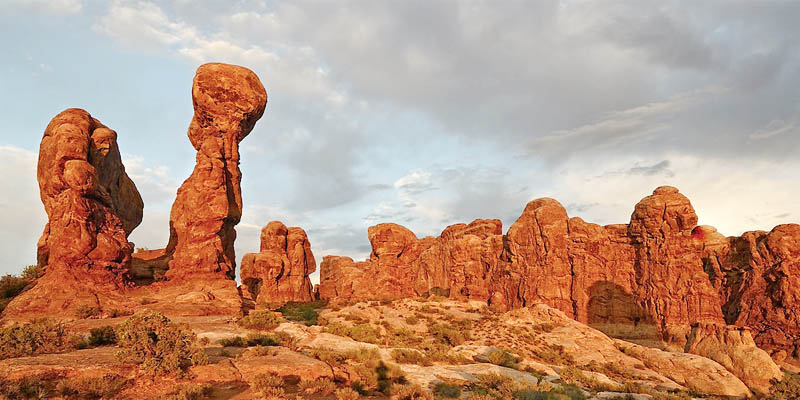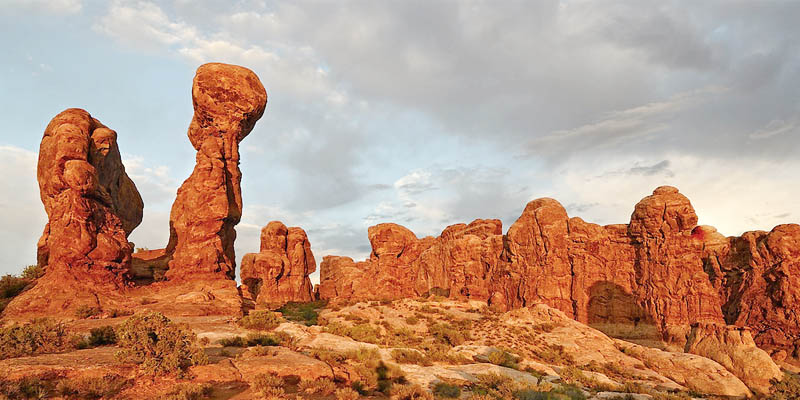 Soaring Arches and Amazing Rock Formations Await
Arches is of course named for its spectacular stone arch formations, totaling more than 2,000 in all. While these features are the most photographed and best known, you will find that there a many other unusual and exotic rock formations throughout the park that are equally striking.
Words cannot really capture the magic of this park. As you gaze out at the rock formations, your mind may play tricks on you. It is almost impossible to look at them and not see faces, figures, buildings, and other imaginary shapes.
What to See at Arches National Park
One great thing about Arches National Park is that it is relatively small compared to quite a few other national parks. You can easily drive the entire circuit even if you are only staying for an afternoon.
Here are some sites to be on the lookout for as you explore:
• Visitor Center: Drop by here first to learn more about the park before you head out.
• Delicate Arch: This is probably the most frequently photographed and recognizable stone arch in the park. Because the road does not afford a good view of this arch, it is recommended that you hike 100 yards to see it. You also have the option of hiking an additional half-mile for closer view (climbing stairs is required). You can get all the way to the arch if you like, but the walk is a mile and a half in either direction and requires that you ascend 480 feet. Plan your time accordingly. Along the way, you can spot petroglyphs by the Ute indigenous people.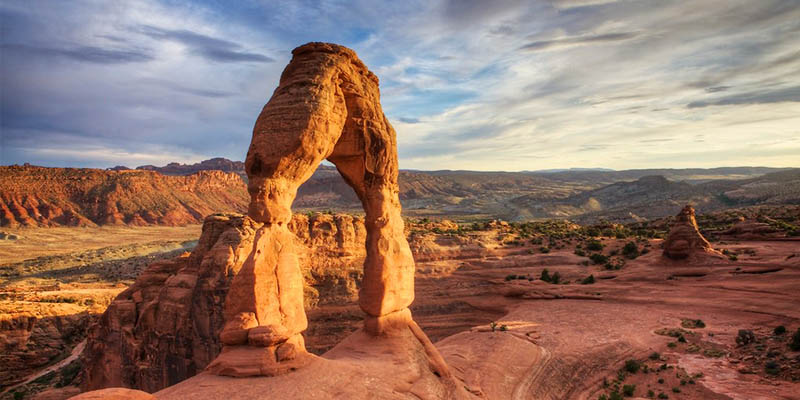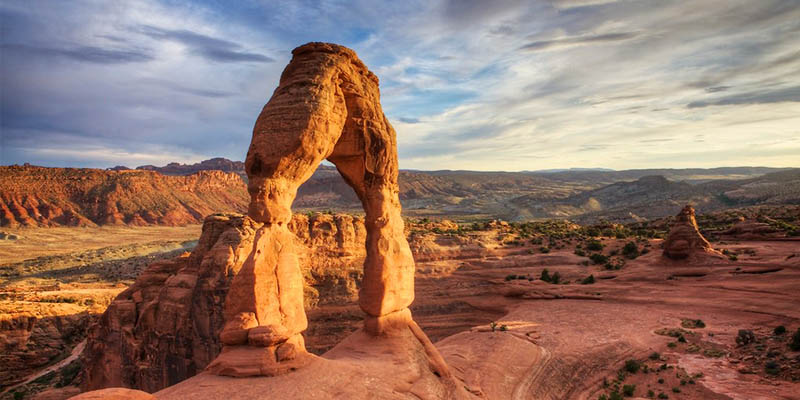 • Devils Garden: This is another iconic area of Arches National Park to explore. Alongside more arches, rock formations to check out include fins and spires. While the Delicate Arch is classified as the park's largest freestanding arch, the Landscape Arch in Devils Garden is the longest.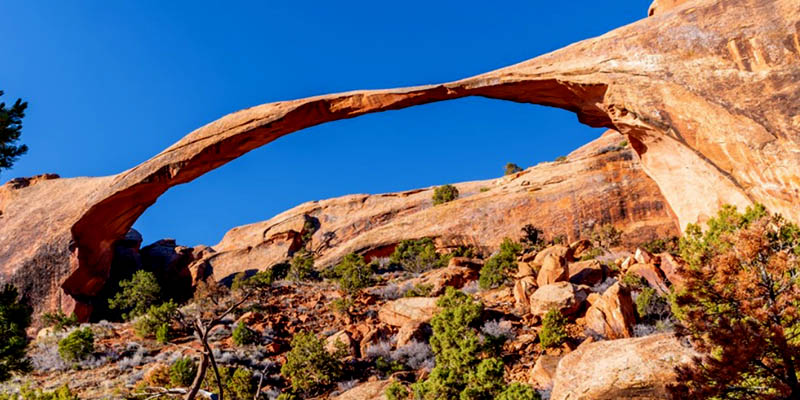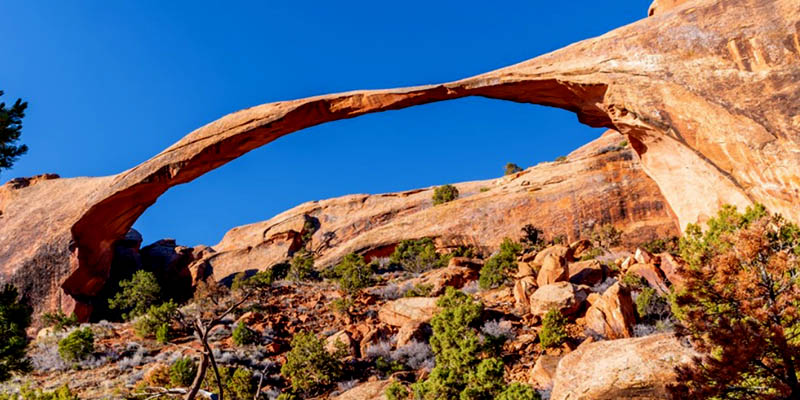 • Balanced Rock: As it says on the tin, this formation appears to be a large rock balanced precariously atop a formation. The word "appears" is important, as it is not separate from the formation below—it is a part of it. It is a process of erosion which led to the formation's unusual appearance. As that process is continuing, eventually it will eat away so much of the connection between the boulder and its base that it will collapse. Indeed, the delicate formations at Arches are not so much a reminder of the enduring permanence of the earth, but of the constant and inescapable tides of change which reshape it.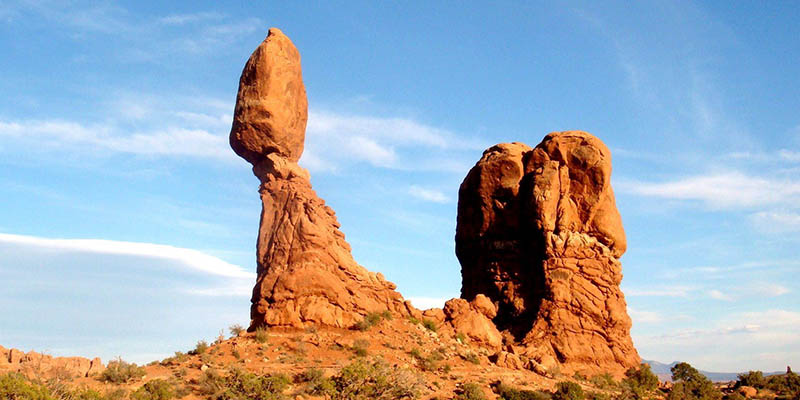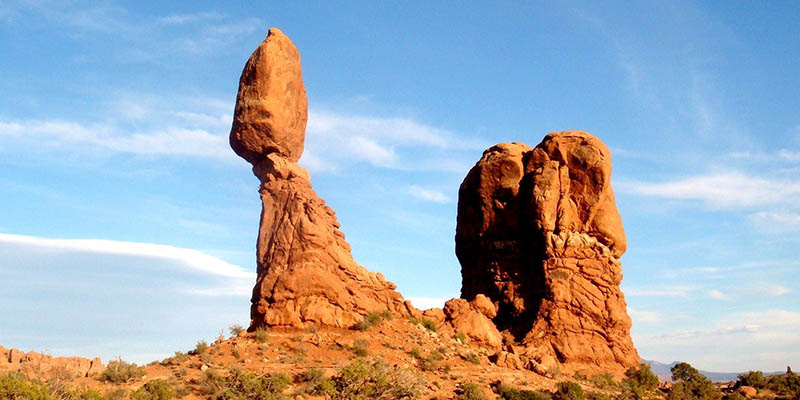 • Park Avenue and Courthouse Towers: These formations were named so poetically because they do indeed seem to resemble tall buildings. Since this is one of the more open areas of the park, the flat spaces between them do seem a bit like an "avenue" of sorts. You may see other shapes and possibilities as you explore the avenue as well. Just as erosion shaped the park, so your imagination will shape in part your experiences of it.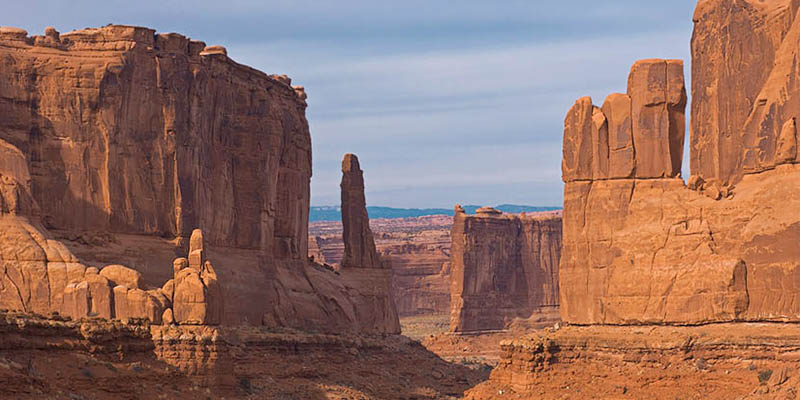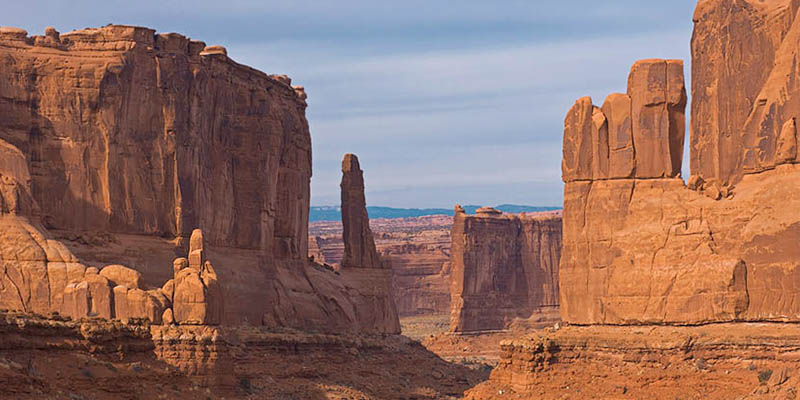 • The Windows: Discover arches like Turret Arch, Double Arch and the North Windows here along with an array of other beautiful and unusual rock formations.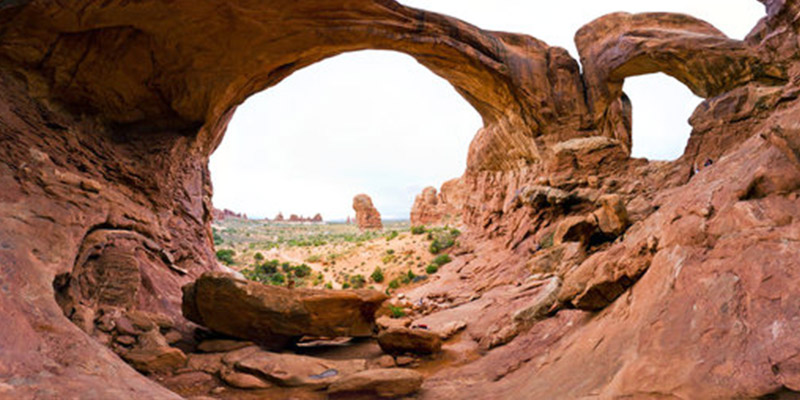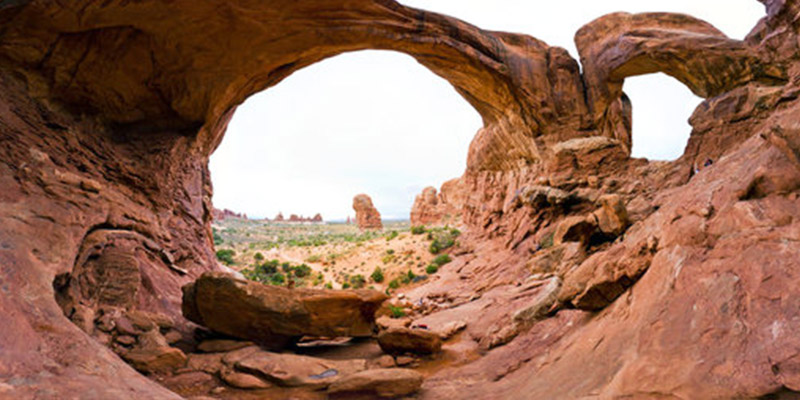 Arches Activities
We've talked about some of the destinations in Arches National Park to add to your bucket list. But what are some of the activities you can do in the park?
• Driving. As mentioned, you can drive around the park pretty quickly. In fact, it only takes around four and half hours to drive the entirety of Arches' paved roads. This is the best way to see the park if you do not have a lot of time. If you rented a 4WD camper, consider taking some of the unpaved roads as well (assuming weather permits).
• Cycling. If you bring a bicycle with you, you are allowed to ride it on any road in Arches.
• Hiking. There are trails which are suitable for all difficulty levels in the park. Some easy trails to try include Balanced Rock, The Windows, Double Arch, Delicate Arch, Broken Arch Loop, Sand Dune Arch, Skyline Arch, Courthouse Wash Rock Art and Landscape Arch. A moderately difficult trail is Park Avenue. Challenging trails include Delicate Arch, Tower Arch, Primitive Trail, Double O Arch, and Fiery Furnace.
• Backpacking. Head into the backcountry if you have the skill and equipment. Bring plenty of water; you'll find very little or none in the Arches backcountry.
• While there are a number of limitations in place, you can go horseback riding in the park.
• Canyoneering and rock climbing. The park affords many opportunities for both. You must observe all regulations to make sure that you are protecting the delicate formations.
• Stargazing. With its location far out in the desert, you can look up and see thousands of stars at night (which is a great reason to camp here rather than just spend a few hours in the morning or afternoon).
• Photography. With the oranges, reds and pinks of the sandstone as well as the intricacies of the rock formations, Arches National Park is a photographer's paradise. In the morning and late afternoon, the long shadows will most sharply define the features you are trying to capture. If you visit park's website, you will find some useful photography tips as well as recommendations for specific formations to photograph in the early morning and late afternoon.
• View wildlife. Even though Arches is located in the Utah desert, there is quite an abundance of diverse wildlife for you to spot while you're driving or hiking around the park. You may spot skunks, foxes, bats, owls, bobcats, kangaroo rats, mule deer, coyotes and even mountain lions.
• Go on a ranger-led program. If you would like more insights into the geology, flora and fauna of the park, consider signing up for a program led by a ranger. Programs include hikes, amphitheater talks, stargazing events, and more.
Where to Stay at the Arches in Your Motorhome
If you want to stay in your motorhome or campervan while you are visiting Arches National Park, you really only have two basic options.
You can either stay in the park at the single campground which is available, or you will have to stay at a privately-operated campervan park nearby.
The one campground which is located in Arches is Devils Garden Campground. Here's what you should know about staying there:
• The campground is open year-round.
• Reservations are accepted between March 1 and October 31. While they are not required, the spaces fill rapidly. If you do not make one, you probably will not get a place to park. So you are highly advised to book in advance. In fact, you should book as many months in advance as possible since it is not unusual for spots to be full months before a given date arrives.
• For the remainder of the year, it is not possible to place a reservation. So you want to arrive early to grab a spot.
• Amenities available at the campground include picnic tables, grills, water, and toilets. You can also purchase firewood, and there is an amphitheater nearby where you can attend ranger talks. Note that there is no laundry, dump station or ice. There is recycling and trash available.
• You can bring up to two vehicles to the campground.
• As of the time of this writing, the fee for a regular spot is $25.
• You can bring motorhomes up to 40 feet in length. Larger motorhomes will need to park elsewhere. Trailers are permitted.
As Moab is a very popular recreational area, you will find plenty of other RV parks in the surrounding region if you cannot book at Arches.
Just keep in mind that these can fill up quickly as well, so reserving as far in advance as possible is still important.
Enjoy the Wonder of Arches National Park
Now that you know the key sites to check out at Arches and the many activities which you can enjoy there, you are ready to plan your trip to the park. Place your reservation early, and plan to spend at least one full day at the park. The more time you can set aside, the better, because this is an unbelievably beautiful and unique place. You will remember your trip to Arches National Park fondly for the rest of your life.