Planning a 4WD Camper or Motorhome Trip to Bryce Canyon National Park
While Las Vegas is America's gambling Mecca, it is also the gateway to America's desert playground. A number of amazing parks are located within a relatively short drive of the city, including Death Valley National Park, Mojave National Preserve, Lake Mead National Recreation Area, Grand Canyon National Park, Zion National Park, and Bryce Canyon National Park.
Of all of these, Bryce is probably the most likely to be overlooked. While it is more famous than the Mojave National Preserve, is further away from Las Vegas, and also not as close as nearby Zion.
Because it is a little bit out of the way, it is actually the perfect destination to add to your itinerary if you will be renting a motorhome, campervan or 4WD vehicle during your stay in Las Vegas. You will be able to drive to and from the park in comfort and camp there in your rented vehicle.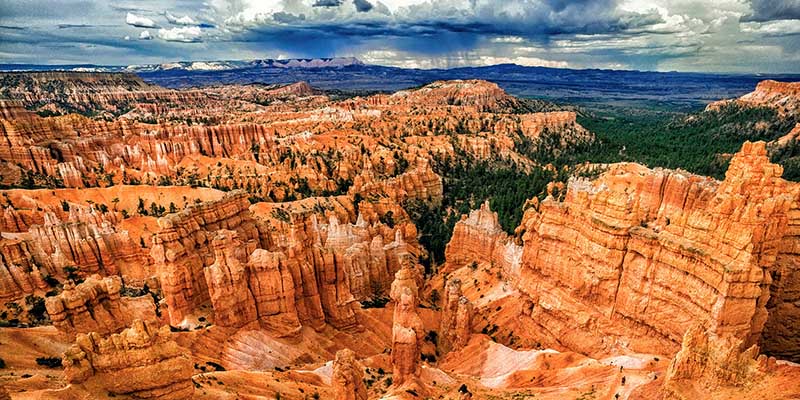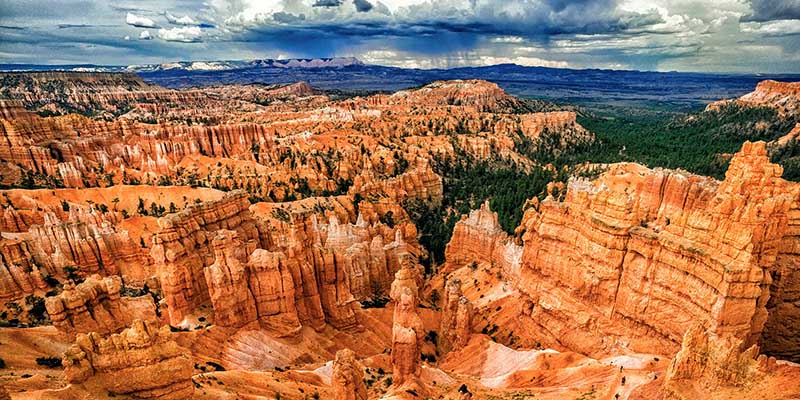 Stunning Rock Formations Abound
Bryce National Park is dominated by colourful banded cliffs and rock formations in shades of orange, red and pink. It is particularly famous for its hoodoos. Don't know what a hoodoo is? It's a column of rock which has been weathered in a distinctive way.
As a point of interest, Bryce National Park is actually part of the same massive geological feature as Zion National Park, Grand Canyon National Park and Arches National Park. This is something which you can learn more about when you are visiting.
What to See at Bryce Canyon
There's quite a lot to see at Bryce Canyon National Park and nearby Grand Staircase-Escalante National Monument. Here are some key sites you should plan to visit:
• Visitor Center. Be sure to start your journey here so that you can learn some context about the park's incredible geology.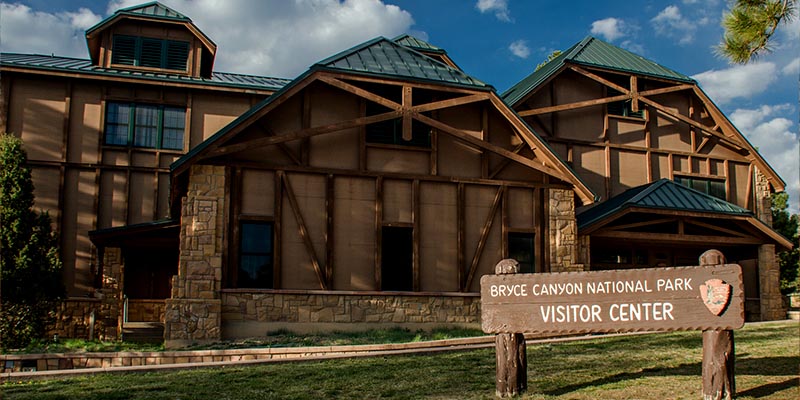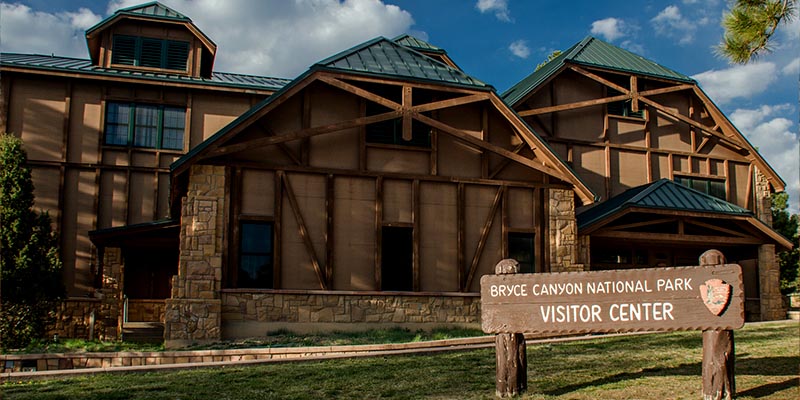 • Rainbow Point: At the southernmost extremity of Bryce, you will find Rainbow Point. You can get a great overview of the park by looking at it from this vantage. For that reason, the NPS recommends it as your first scenic stop.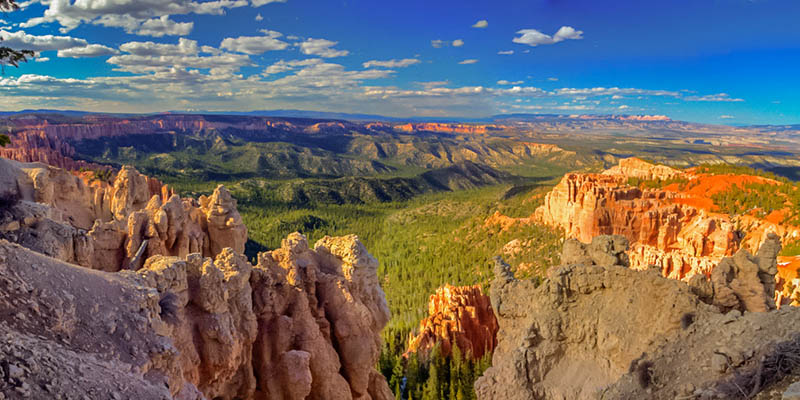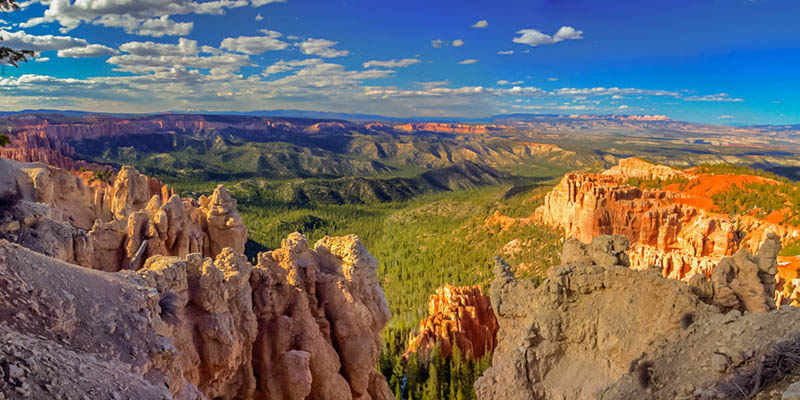 • Sunrise Point: you will find this spectacular vantage point just a short drive away from the visitor center. It offers an excellent view of the hoodoos. As the name indicates, morning is an excellent time to visit as the long shadows accent the hoodoos and make them stand out. You can behold other prominent features from the spot as well.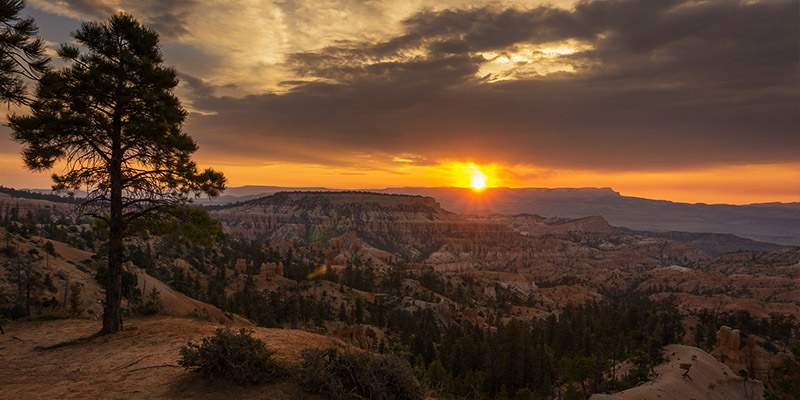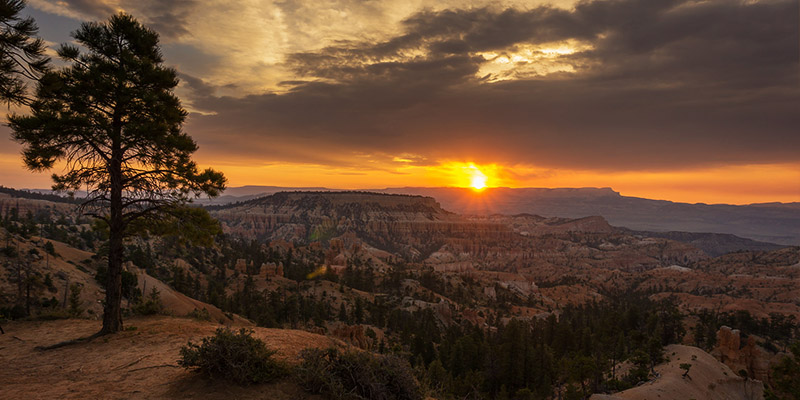 • Sunset Point: This is the place to come if you want to look down on the amphitheater from above and get a good view of the Silent City, Thor's Hammer and other formations. As suggested by the name, sunset is particularly amazing here.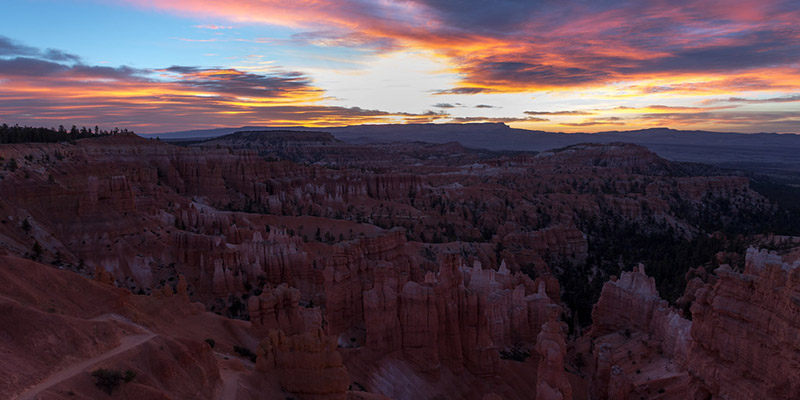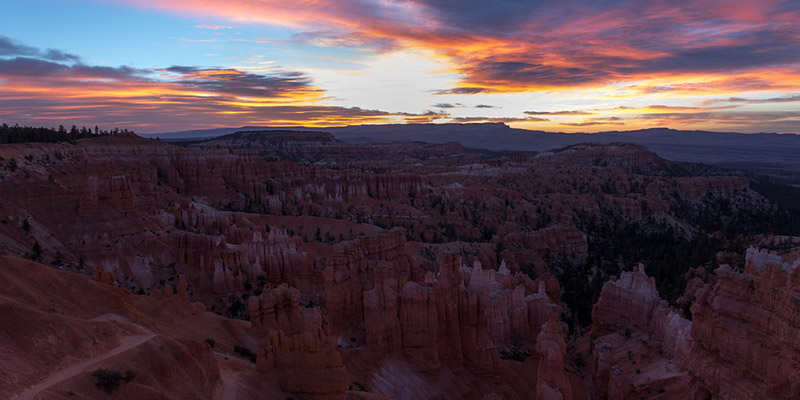 • Inspiration Point: Located close by is Inspiration Point. Enjoy breathtaking view of Boat Mesa and the Claron Formations.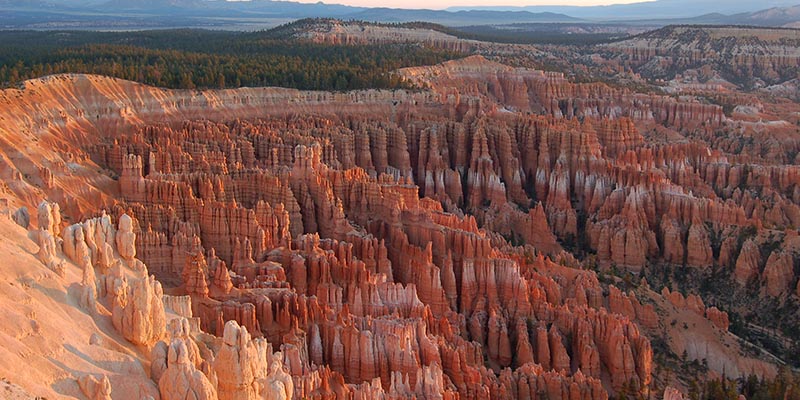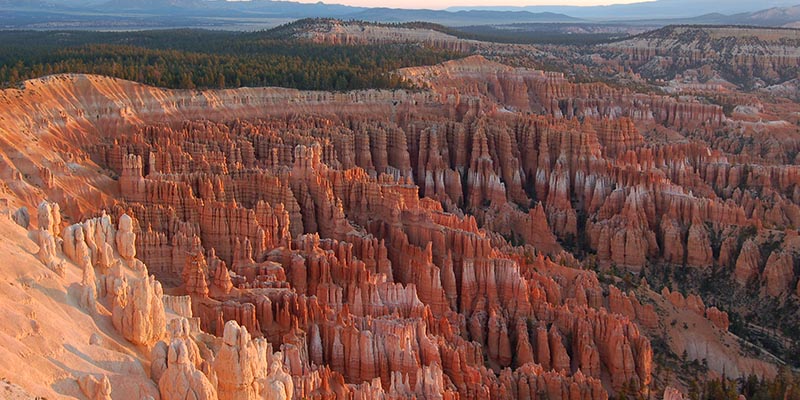 • Bryce Point: This is another spot where you can get fantastic views of some of the same features which you can see from Inspiration Point.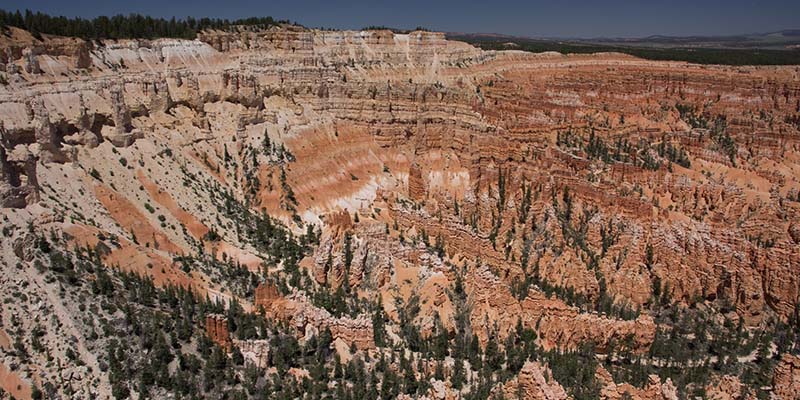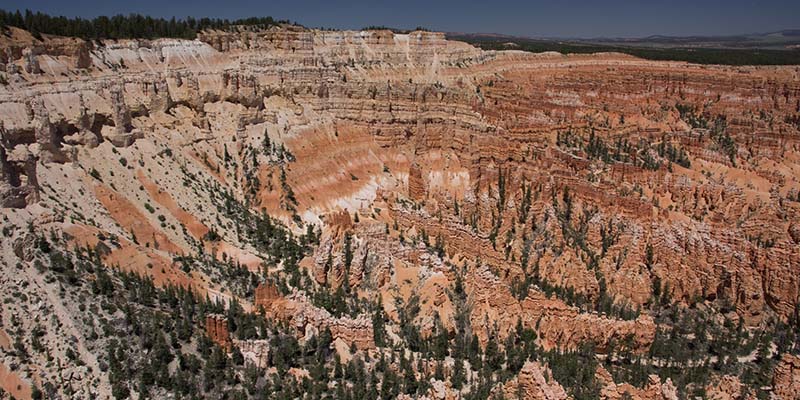 Note that you can park your motorhome (see the section on campgrounds) and use the shuttle to get around the park.
Bryce Canyon Activities
There are numerous opportunities for adventure throughout Bryce Canyon:
• Take a drive and step out of your vehicle at popular viewpoints such as Inspiration, Sunrise, Sunset, Bryce and Rainbow Point. On your way to each of these, you will encounter numerous other astonishing views.
• Go for a hike. There are a number of easy, moderate and challenging hikes available throughout the park. If you're looking for something leisurely, consider a stroll along Mossy Cave, Rim Trail, Bristlecone Loop, or Queens Garden. If you would like something a little more vigorous, but still not too hard, try Navajo Trail, Hat Shop, Tower Bridge or Swamp Canyon. Advanced hikers who are up to a challenge can tackle Fairyland Loop, Peek-A-Boo Loop or Riggs Spring Loop (all these advanced trails are more than 5 miles long).
• Go on a horseback ride, or go for a ride on a mule. You can choose between a 2-hour ride and a 4-hour ride. Both traverse some of the most stunning scenery in the park. Note that you can only do this during the spring, summer or autumn seasons.
• Go cross-country skiing or snowshoeing. If you miss out on a horseback ride because it is winter, do not fret—there are other fun activities for you to enjoy. Bryce offers free snowshoeing guided tours, which is awesome. You can also go sledding or just play in the snow.
• Watch for wildlife. This is no desolate wasteland, even though it is a desert. Bryce is home to a variety of wildlife, including elk, pronghorn, hummingbirds, falcons, snakes, lizards, salamanders and more. There are also many types of trees and an abundance of undergrowth which thrive in the park. Depending on the season, you may also get to see paintbrushes, columbines and other wildflowers.
• Take photos. Another opportunity that you will not want to miss out on while you are visiting Bryce is the chance to take photographs of one of the most unique and unusual landscapes you will ever encounter. You can take amazing photo at every time of day, but you will probably get some of your most dramatic shots in the morning or in the late afternoon when the shadows are longest and help to define the features of the rock formations.
• Attend one of the park's festivals. There are several annual festivals which take place at Bryce Canyon. Among these are the Geology Festival (a.k.a. GeoFest), Annual Utah Prairie Dog Day, and the Annual Astronomy Festival. Be sure to check the dates for these events while you are planning your trip. Not every national park offers these kinds of activities.
Where to Stay in Bryce Canyon in Your Motorhome
Bryce can be an absolutely amazing place to camp. Again, Bryce is a little more "off the beaten track" than some of the more popular parks in the area, despite being just as scenic. So especially if you do not arrive right in the middle of peak season, you could find that it is a little less crowded than some other nearby parks.
There just two campgrounds to choose from:
• North Campground: At this campground, there are 13 sites which you can reserve for your rented motorhome. There are also 86 additional sites that are available on a first-come, first-served basis. Amenities at the campground include picnic tables, fresh water to drink, fire grates where you can cook, and flushing toilets. You also can drop by the nearby General Store if you need to do your laundry or take a shower. You cannot do this in your motorhome since there are no hookups. During the summer however, there is a dump station.
• Sunset Campground: As you may have guessed, this campground is right near Sunset Point. 80 sites are available which can accommodate your rented recreational vehicle. Amenities are the same here as they are at North Campground. Likewise, there are no hookups, but there is a summer dump station. No reservations are needed for this campground.
Overnight fees are the same for both campgrounds. As of the time of this writing, you can park in either campground in your motorhome for $30 nightly.
Sunset Campground is only open for part of the year. It closes in October and reopens again in April. North Campground has limited winter availability.
One of the Nation's Most Beautiful Desert Parks Awaits You
While you do not hear as much about Bryce Canyon as you do about Zion, Death Valley, and the Grand Canyon, it is among America's most majestic and unique places. It should take you around four hours to drive there from Las Vegas, but it is an adventure which is well worth going a little bit out of your way to experience.