Planning a 4WD Camper or Motorhome Trip to Grand Canyon National Park
While visiting Las Vegas and the surrounding area in a rented motorhome, campervan, or 4WD camper, you will want to explore some of the region's amazing desert parks. Perhaps the most famous of all of them is Grand Canyon National Park. It takes around four hours to drive to the Grand Canyon from Las Vegas, but it is well worth it. The drive itself is beautiful, and the park is beyond breathtaking.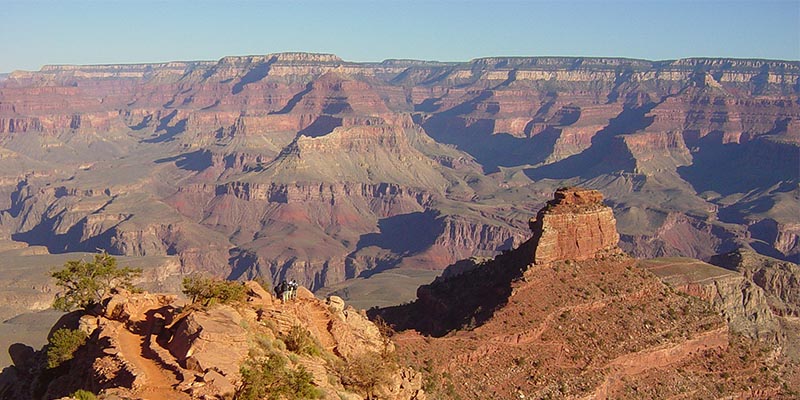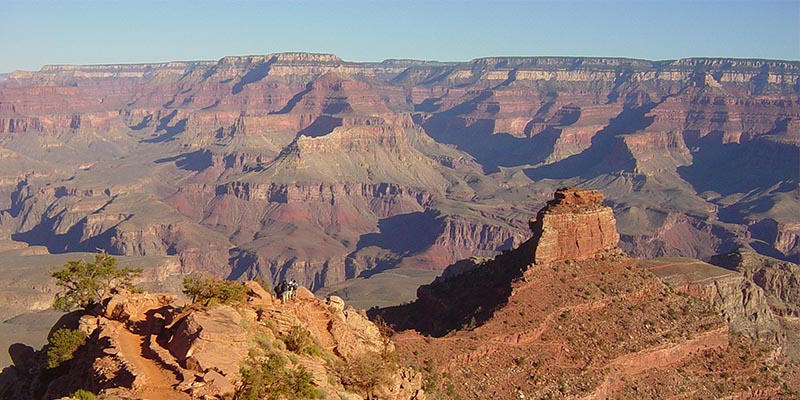 One of the Most Iconic Sights in America
Most people have seen photographs of the Grand Canyon at some point. It is commonly mistaken for being the world's deepest canyon, but that distinction actually belongs to the Kali Gandaki Gorge in Nepal.
Nonetheless, it is impressive. From end to end, 277 miles of the Colorado River run through it. At its widest point, it measures 18 miles across, and at its narrowest, 4 miles. At its deepest point, it is over a mile down.
The Grand Canyon is visually spectacular. The scale of it can make you feel tiny when you are standing at the edge. The rock layers are also exquisitely colourful—a common trait for formations throughout the region. Indeed, the Grand Canyon is actually part of the same huge mega-formation as Zion, Bryce, and Arches. Geologically, they are connected.
Speaking of geology, the Grand Canyon is a wonderful place to learn about how the continent formed. You can literally see the story in the layers of the canyon.
What to See at the Grand Canyon
If possible, you should set aside at least a couple of days to explore the Grand Canyon at a comfortable pace. Regardless of how much time you have, here are some sites which you may want to put on your itinerary for your park stay:
• Visitor Centers. Both the North and South Rim offer visitor centers where you can shop for souvenirs and learn more about the park. There is only one at the North Rim, simply called the North Rim Visitor Center. The South Rim offers three different visitor centers, shops and museums at Desert View, and an additional five at Grand Canyon Village.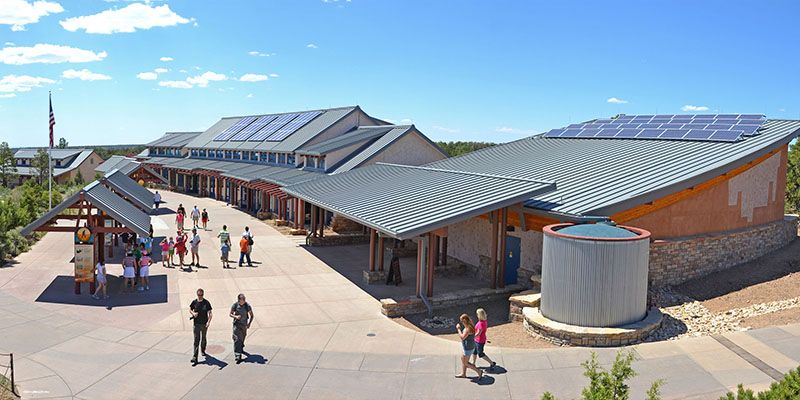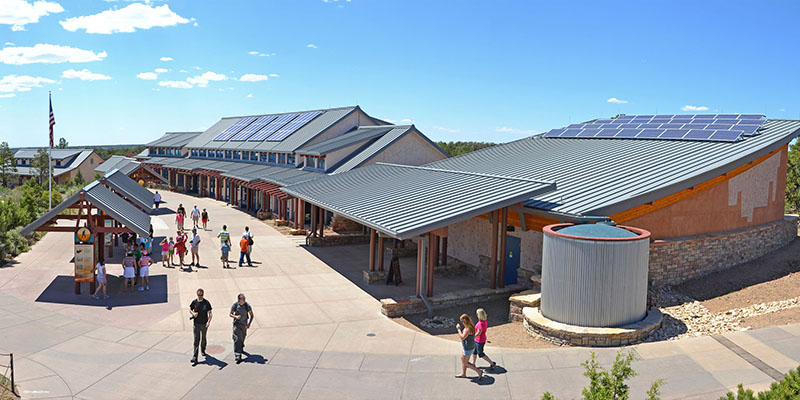 • Hermit Road. From Grand Canyon Village, head west on this road along the South Rim, and you can enjoy one stunning viewpoint after another. Famous spots include Trailview Overlook, Maricopa Point, Powell Point (featuring the Powell Memorial), Hopi Point, Mohave Point, The Abyss, Monument Creek Vista, Pima Point and Hermits Rest.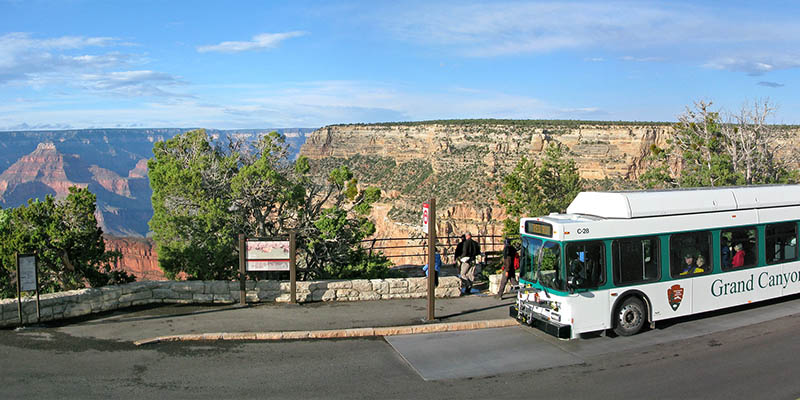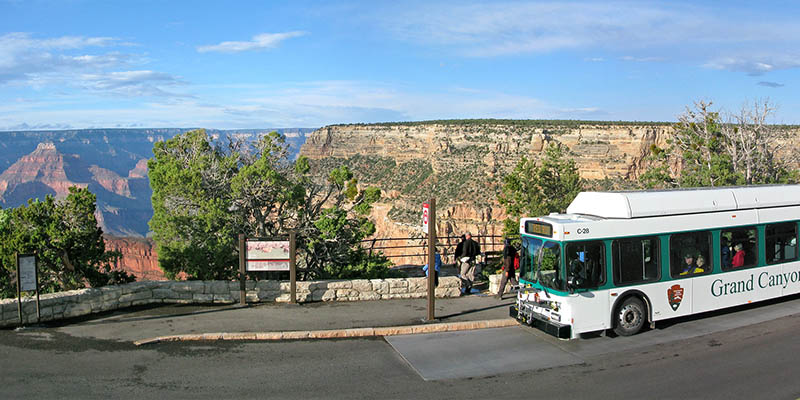 • Desert View Drive. If you head east out of Grand Canyon Village instead of west, you will be on the Desert View Drive. This road features viewpoints such as Pipe Creek Vista and Yaki Point, as well as distinctive rock formations like Duck on a Rock. Another intriguing site along this drive is the Tusayan Ruin and Museum. Also noteworthy is Desert View (see below).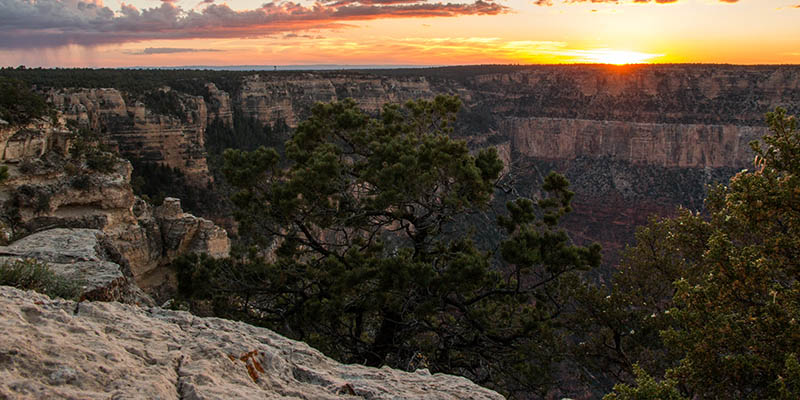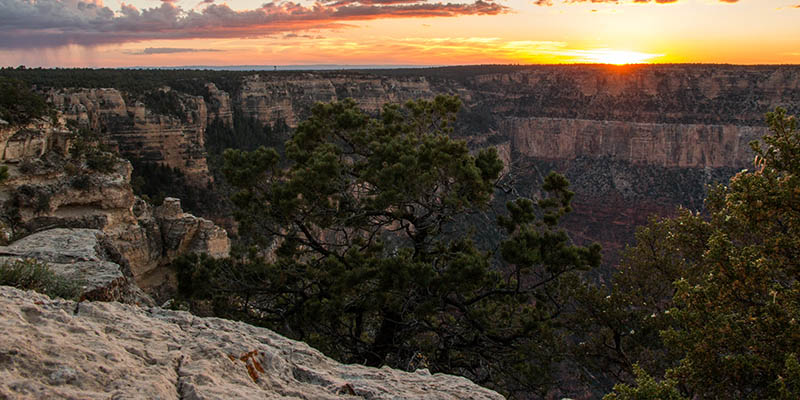 • Desert View. This viewpoint features the Watchtower. The Watchtower looks like an ancient ruin, but it actually was constructed to look like one by architect Mary Colter. You can climb to the top to enjoy even more astonishing views of the canyon.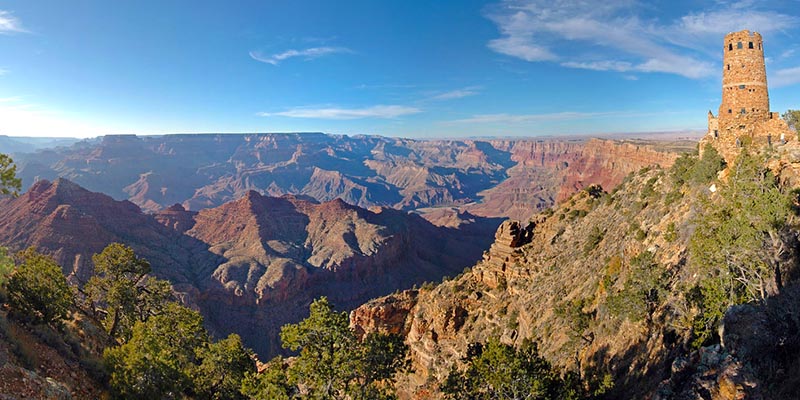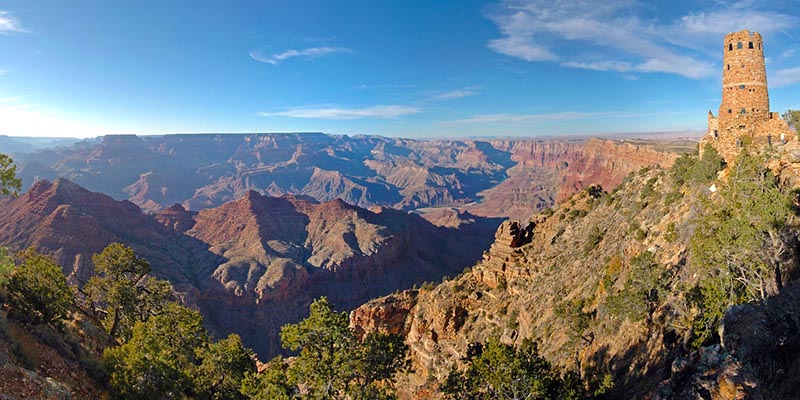 • Toroweap Overlook. This is a special viewpoint which is a bit more off-the-beaten-track. You can look down around 3,000 feet to the base of the canyon form here. The road is not appropriate for all vehicles or drivers, so check ahead.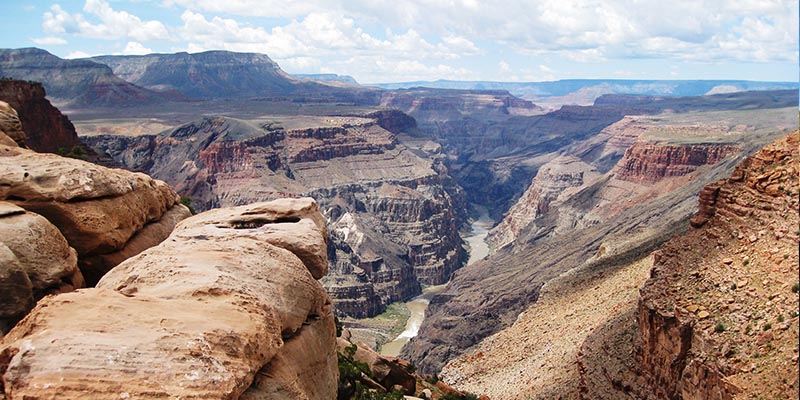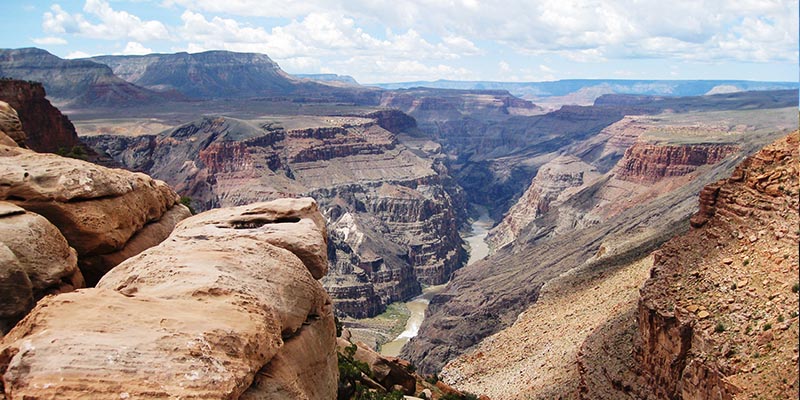 • The Skywalk. This is one of the most famous spots you can visit at the Grand Canyon. It is a glass walkway which takes you out over the canyon. You can look down through the floor for a jaw-dropping view.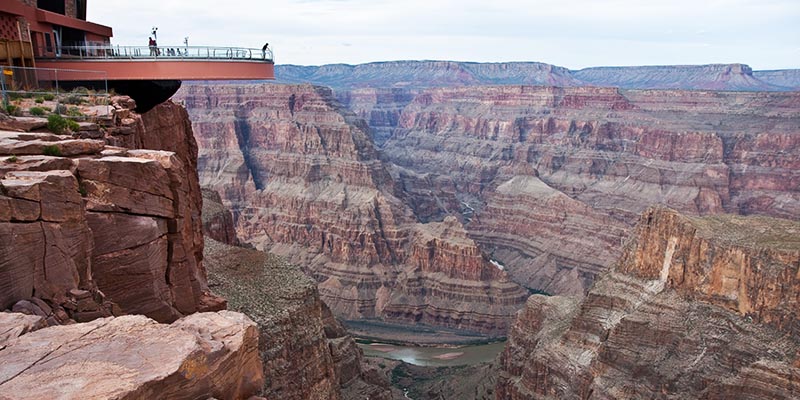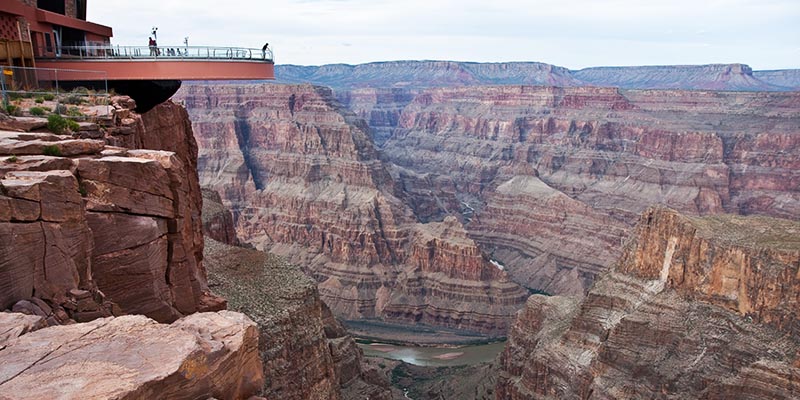 • The North Rim. You probably have noticed that most of the sites and services listed for the Grand Canyon are on the South Rim. If you venture to the North Rim, you will get away from the crowds. The NPS states that only 10% of all visitors who come to the park stop by the North Rim at all. Note that the North Rim is not open during the winter months.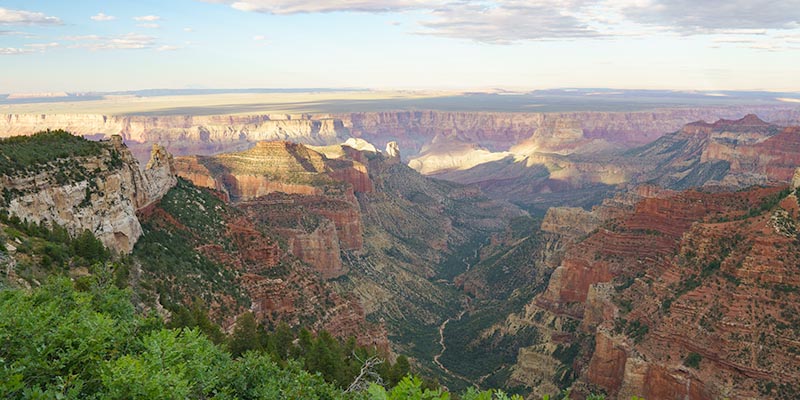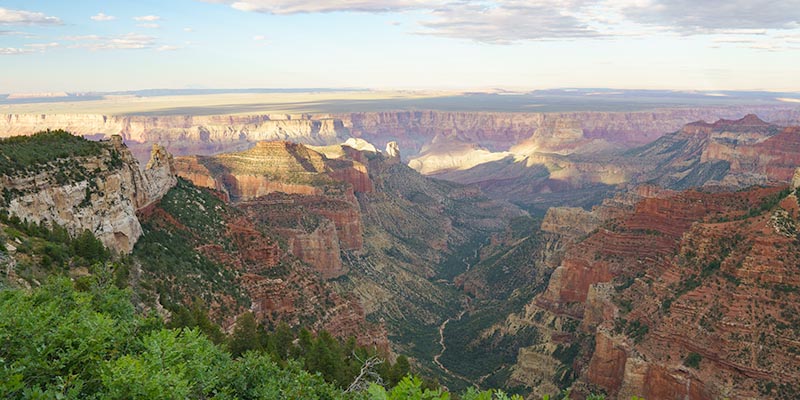 • Phantom Ranch. While most guests at Grand Canyon spend their time on the top of the canyon, there are opportunities to venture down to the bottom. You can even stay at a place called Phantom Ranch. But you need to plan in advance; Xanterra (the lodging company that operates in the park) has a lottery for reservations for this high-demand site.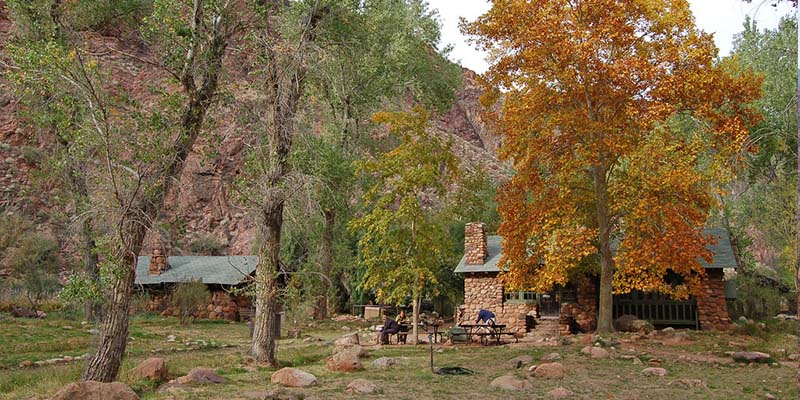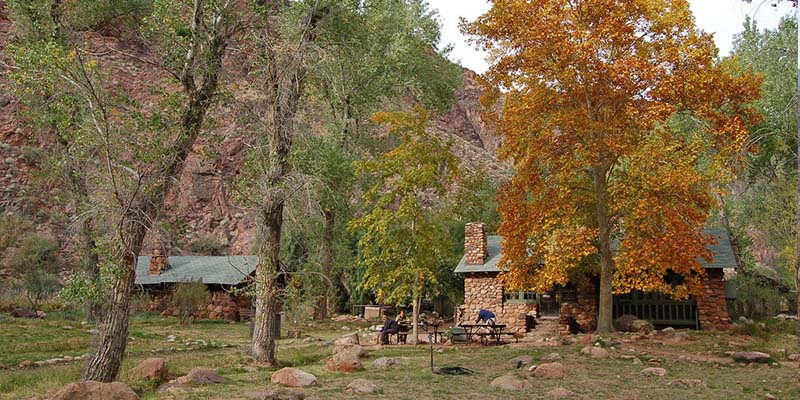 Grand Canyon Activities
You now know some popular sites to visit in Grand Canyon National Park, but what activities can you enjoy while you are visiting?
• Cycling. There are few more amazing ways to take in the vistas along the rim than on a bicycle. Consider renting a bicycle with your motorhome. If you do not want to do that, you can rent one locally when you arrive at the Grand Canyon.
• Explore the Trail of Time. This is a special interpretive trail on the South Rim. For those who have an interest in geology, it is a must.
• Go for a hike on the South or North Rim. Trails to consider on the South Rim include the Rim Trail, the Bright Angel Trail, the Hermit Trail, the South Kaibab Trail and the Grandview Trail. On the North Rim, consider the Transept Trail, the Bridle Trail, the North Kaibab Trail, the Ken Patrick Trail, the Widforss Trail, the Uncle Jim Trail, the Arizona Trail, or the Cape Royal Trail. That is not even a full list.
• Embark on an adventure on the Colorado River with a whitewater rafting trip.
• Take a class through the Grand Canyon Conservancy Field Institute. You can choose from a variety of different guided trips which teach you about geology, plant and animal life, the human history of the area, the arts, and more.
• Go on a mule ride. Like staying over at Phantom Ranch, this activity is very popular (at least on the South Rim) and is often booked well in advance. So if this is something that you want to do, be sure to call ahead as early as possible. If you're unable to get a reservation for a South Rim ride, try for a North Rim ride. You might have more luck.
• Watch wildlife. While the focus at Grand Canyon is usually on geology, it is also a wonderful place to spot wildlife. On your visit, keep an eye out for bison, big horn sheep, mule deer, elk, mountain lions and more.
• Photography. This is a popular activity at any nature park, but it is a bigger deal at the Grand Canyon than it is at most other locations. The best times to take your photos are generally in the morning and late afternoon. This will give you the most beautiful light as well as shadows which help to define the rock formations.
Where to Stay at the Grand Canyon in Your Motorhome
North Rim
The North Rim Campground closes each winter. The exact dates may vary from season to season. As an example, during 2019, the Campground will open on May 15th and close on October 31st.
After the time of this writing, it costs anywhere from $18-$25 to stay at this campground. You may bring up to two vehicles with you. Recreational vehicles are permitted, but note that hook-ups are not available. For your convenience, however, there is a dump station at the site.
Other amenities at the North Rim Campground include grills, restrooms, showers and laundry facilities. If you do have the chance to stay at the North Rim Campground, you should seriously consider it. It'll give you a less crowded, quieter camping experience at the Grand Canyon.
South Rim
The South Rim features several different campgrounds where you can stay in your rented motor home or 4WD camper.
Mather Campground
You will find this campground at Grand Canyon Village. While you may bring your rented recreational vehicle with you, make sure that it does not exceed 30 feet in length. There are no hook-ups, but you can enjoy amenities such as restrooms, laundry facilities, and showers.
If you are going to be visiting during peak season (between March and November), you should not take any chances with bookings. Make your reservation in advance rather than counting on a space to simply be available when you arrive. As at the time of this writing, it costs $18 to stay here for a night.
Trailer Village
As you may have guessed given the name, Trailer Village is a campground designed to accommodate motorhomes. This is something of a rarity; most national parks accept motorhomes at various campgrounds, but few actually have campgrounds for that specific purpose.
If you have a motorhome which is longer than 30 feet, this is where you can park it. In fact, the maximum length is 50 feet. You do need to use the dump station at Mather Campground, but you can look forward to spending the night in full comfort at Trailer Village thanks to the existence of full hook-ups.
Desert View Campground
If you are not visiting Grand Canyon during the wintertime, one more campground where you can park for the night on the South Rim is the Desert View Campground. There are no hook-ups, but motorhomes as long as 30 feet can be accommodated.
You cannot place reservations for the Desert View Campground. Sites are given to those who show up first. You will want to arrive well before noon if you want a chance at parking here. The cost to stay here is only $12 a night.
There is no way to take a shower at the Desert View Campground, but restrooms, campfire grills and water faucets are available. If you do want to take a shower or do your laundry, you can head to Mather Campground.
Havasupai/Havasu Falls Campground
One more campground where you may want to consider booking reservation is the Havasupai/Havasu Falls Campground, which is operated by the Havasupai Indian Reservation.
You will need a tent to stay at this campground. There is no road access at all, so you would need to park your motorhome or campervan elsewhere. The only way to access the site is by hiking, riding a horse, or taking a helicopter.
Normally, I try to only focus on motorhome campgrounds in these articles. The reason I'm making an exception for the Havasupai/Havasu Falls Campground is because it is the site of astonishing and unique natural beauty characterized by red rocks and blue-green pools and waterfalls. For this reason, it is in high demand and books very quickly. So if you do decide to stay here, make sure that you place your reservation many months in advance.
Experience the Majesty of the Grand Canyon
While you have doubtless seen many beautiful photographs of the Grand Canyon, once you visit, you'll discover that none of them can truly do it justice. Make it one of your stops on your Las Vegas area motorhome adventure, and you will capture magical memories that put photos to shame.