Planning a 4WD Camper or Motorhome Trip to Yellowstone National Park
It's a pretty long drive from Denver, CO, or Salt Lake City, UT, up to Yellowstone National Park, which is situated at the corner of Wyoming and includes sections of Idaho and Montana.
But Yellowstone is a very remote destination. It is also one of the most remarkable natural locations you can visit anywhere on the planet. So if you are in a nearby state and you have rented a motorhome or campervan, it is well worth planning to drive there and back, and making sure that you spend a minimum several days in the park. Better yet, plan for an entire week or more.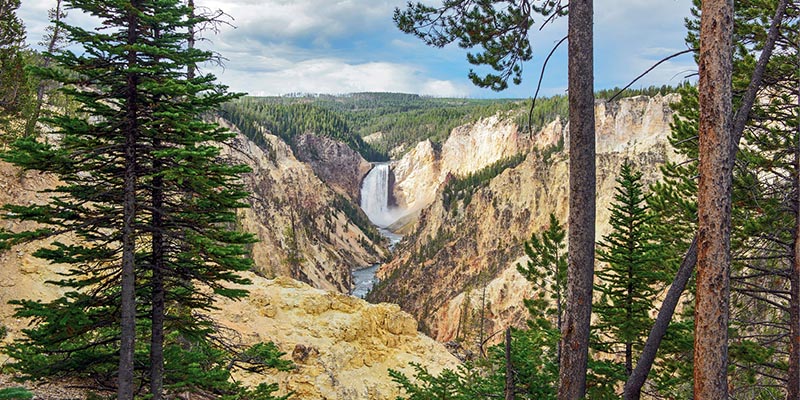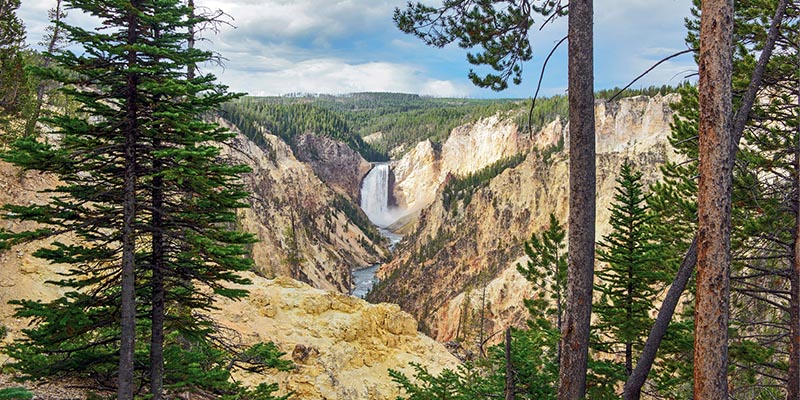 Visit the Live Caldera of a Supervolcano
When you set foot in Yellowstone National Park, you will be standing inside the caldera of what is termed a "supervolcano." In fact, it is the largest volcanic system anywhere on the continent. Geologists believe that the magma chamber under the ground here measures an astonishing 37 miles in length by 18 miles in width, with a depth extending anywhere from 3 to 7 miles.
The eruption which resulted in the existing caldera took place some 640,000 years in the past. It is estimated that it was around 1000 times the size of the infamous Mount St. Helens eruption in 1980.
Because this area is geologically active, you can explore unique and ever-changing terrain here dominated by geyser basins and colorful and unusual geothermal features. Surrounding these basins are beautiful forests, dramatic mountains, and roaring waterfalls. In all, there are 2,219,791 acres to explore.
What to See at Yellowstone
You can literally spend months in this park and see only a fraction of it, so it is difficult to pick and choose locations to explore if you only have a limited time. But following are some recommendations for particularly fascinating features and astonishing landscapes.
• Old Faithful: If you can only make it to one destination in the entire park, this should probably be it. This geyser basin is home not only to the iconic Old Faithful geyser (which usually erupts every 35-120 minutes or so), but also to a spectacular array of other colorful geothermal features. You can also drop by the beautiful rustic Old Faithful Inn, and explore surrounding basins such as Black Sand Basin and Biscuit Basin.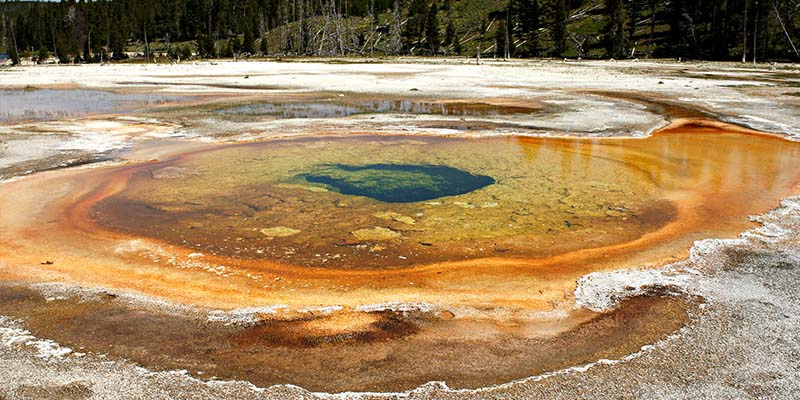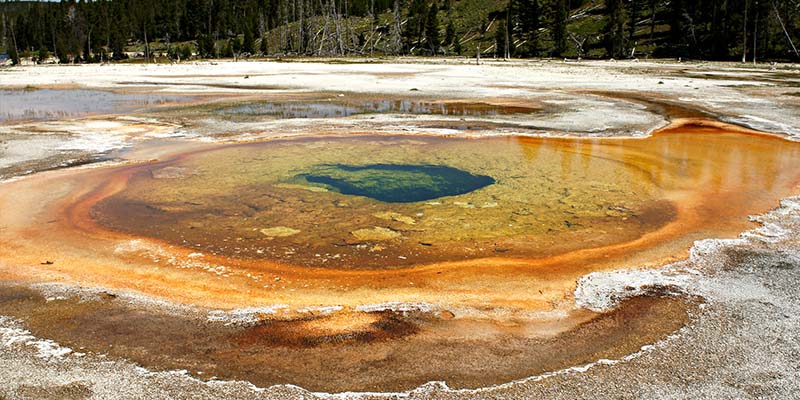 • Firehole Canyon: If you fancy going for a swim in exquisitely comfortable waters, there is a public swimming area located here close to Madison. The river water is geothermally heated.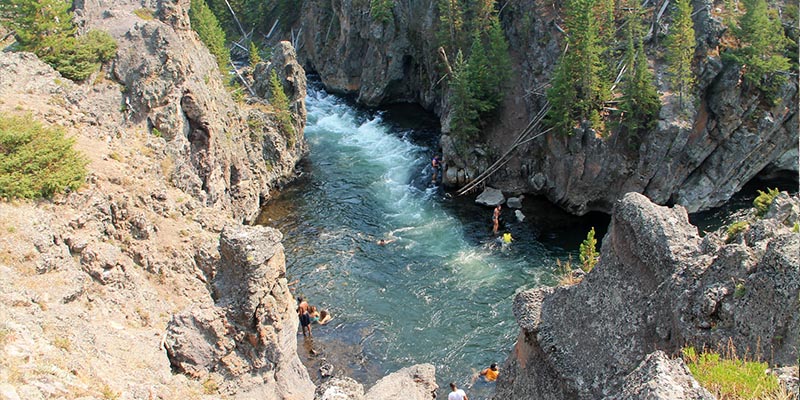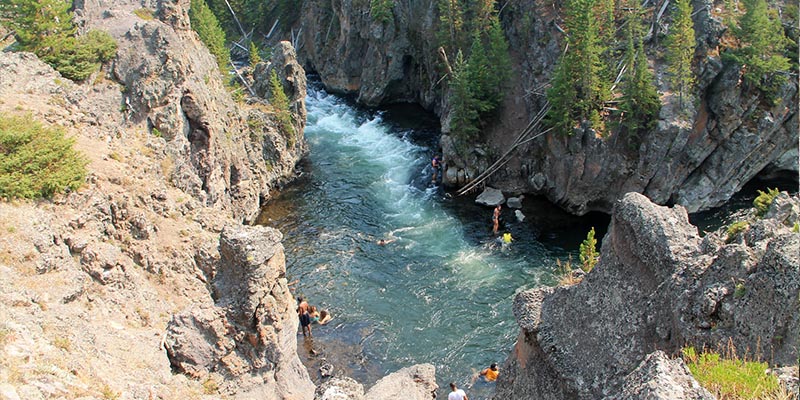 • Norris: The geyser basins in this part of the park are considerably less well known than those Old Faithful, but they are every bit as awe-inspiring. You can get away from some of the crowds here, and enjoy a nice long walk across the boardwalks as you gaze at the colorful pools.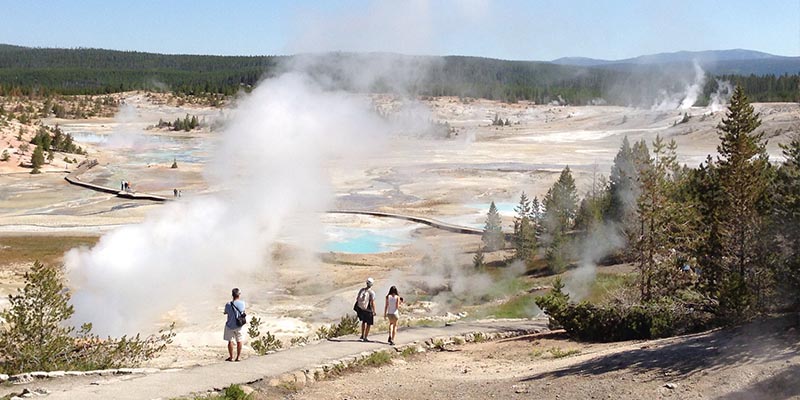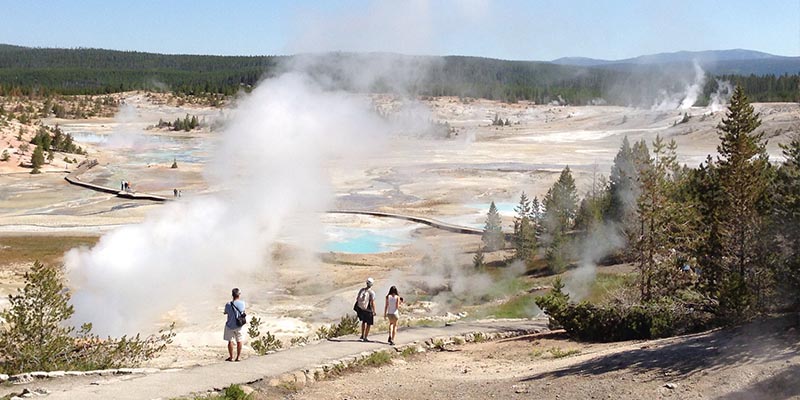 • Grand Canyon: Here you can find the famous Upper Falls and Lower Falls, and visit Artist Point, where so many recognizable photographs and paintings of the falls have been captured. While the falls themselves are spectacular, you will also be amazed by how colorful the rock faces are in this part of the park.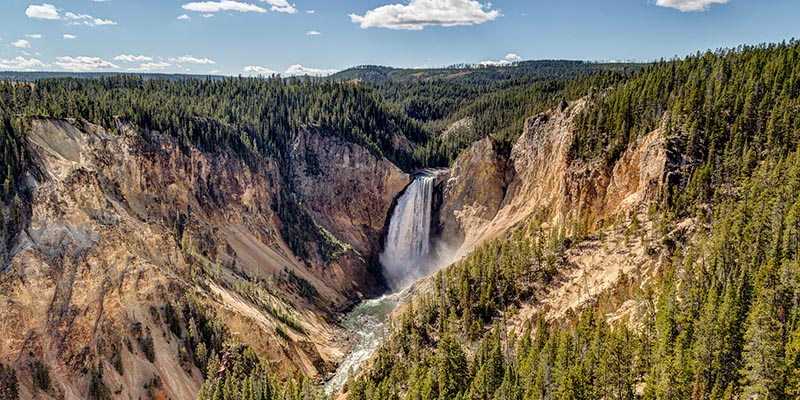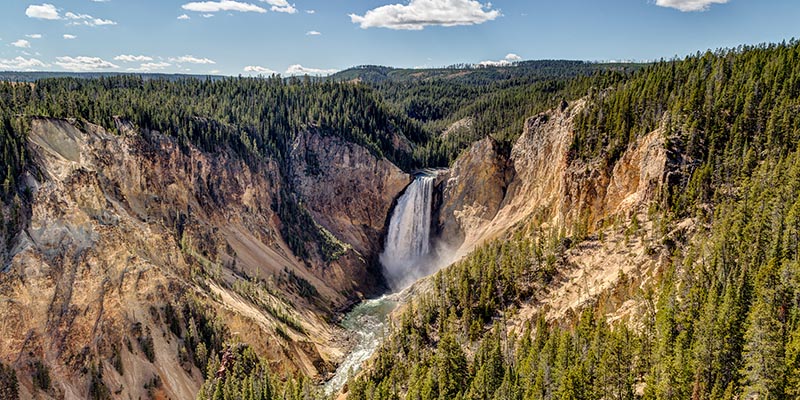 • West Thumb: This is another impressive geyser basin which you will find along the shore of Yellowstone Lake as you are driving south on your way out of the park. On that note, make sure that you do not miss out on a chance to see the Grand Tetons just south of Yellowstone.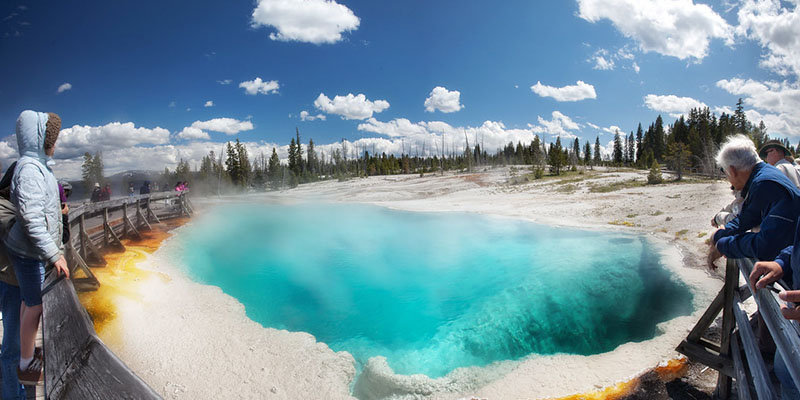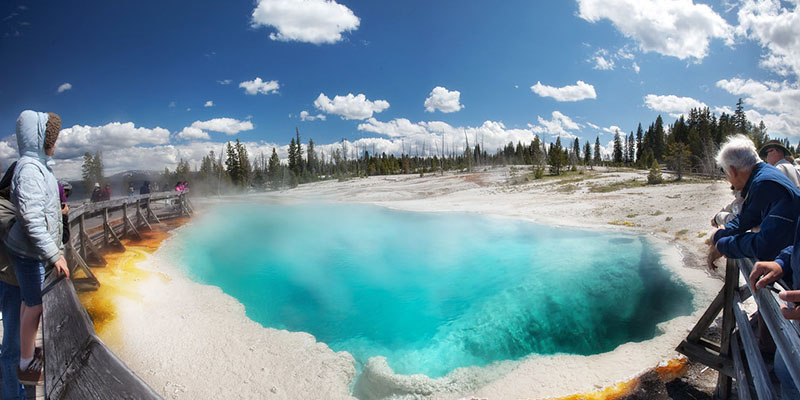 • Hayden Valley: Just south of the Canyon area is Hayden Valley, an open, idyllic area where you can spot all kinds of wildlife, especially in the evenings. So for that, you will come to the Lake area, home to the historic Lake Yellowstone Hotel.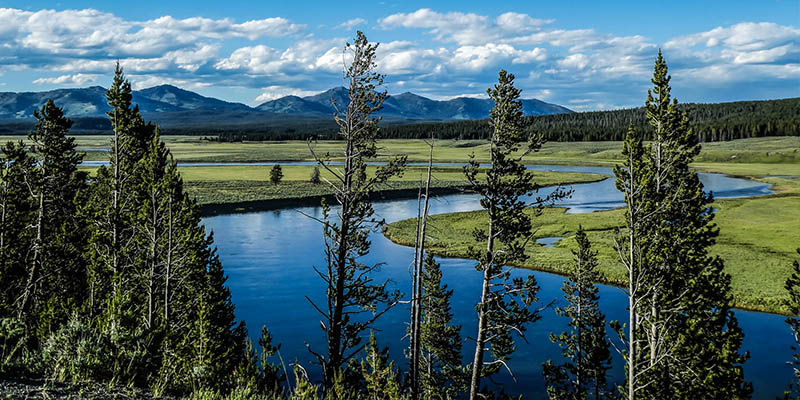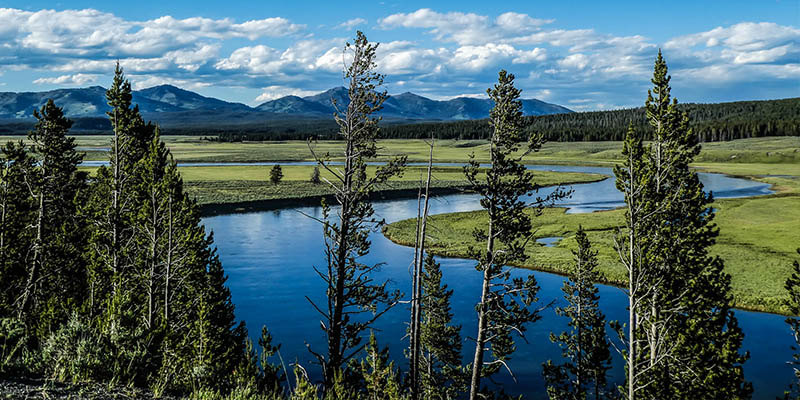 • Mammoth Hot Springs: One of the most famous geothermal features in the park is this set of dramatic terraces. While they appear to have dried up, this is actually not the case. The water volume is about the same, but presently, it is largely subterranean. The springs are still very beautiful, and offer some breathtaking views of the surrounding area.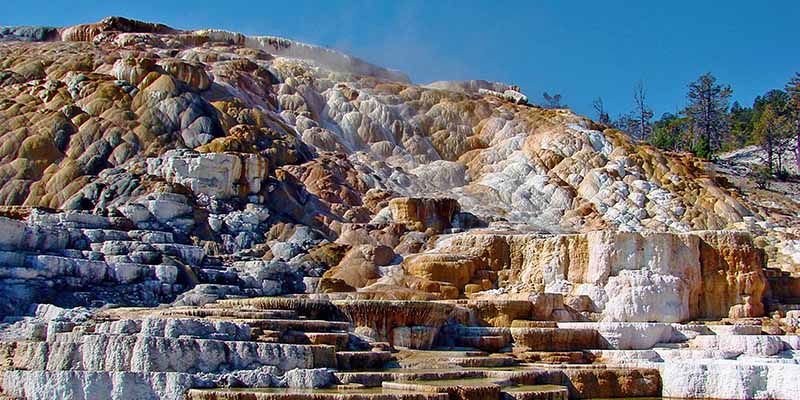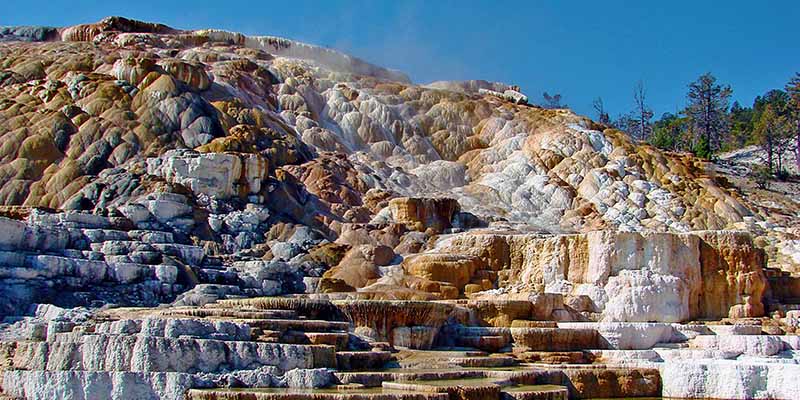 • The Basalt Columns: While driving close to Tower Falls, you can behold one of the most striking rock formations in the entire park. Here, a series of basalt columns have formed along a cliff wall right next to the road. Similar columns are located near Mammoth and Norris at the Sheepeater Cliffs.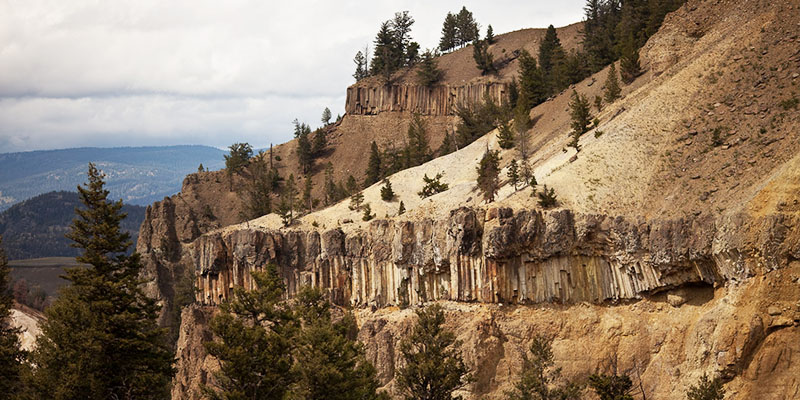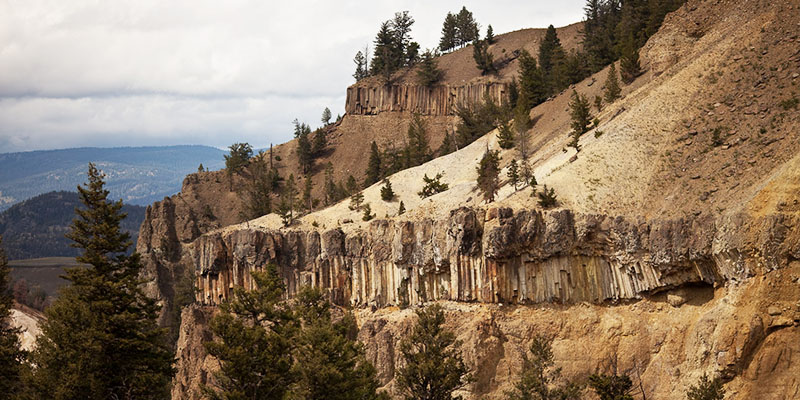 • Lamar Valley: This region of the park is similar to Hayden Valley, but it's arguably even more expansive and dramatic. While it is a popular and well-known area to explore, it is a little more off-the-beaten-path than some other destinations on this list, in large part because it is somewhat remote, being located in the north-eastern corner of the park. If it is outside of the very middle of peak season, you may feel like you have this breathtaking drive largely to yourself.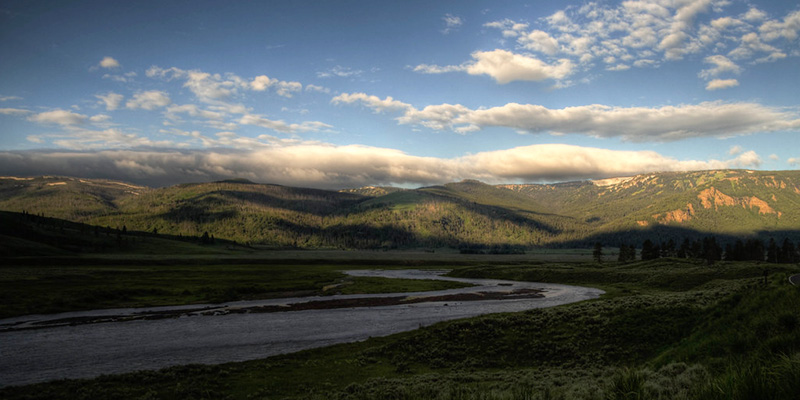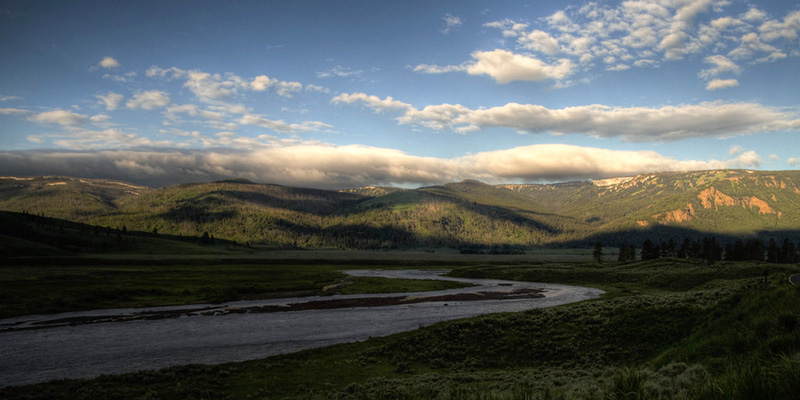 Yellowstone Activities
Needless to say, with so much to explore, there's a great deal you can do in terms of activities in this park. Here are some ideas for your trip.
• Driving. You can picture the Yellowstone Grand Loop as a figure 8 which spans much of the park. There are five different roads which shoot off of it, and which can take you to or from the park. With so much distance to traverse, you will be surprised by just how much of the park you can experience from the roads alone.
• Hiking. Naturally, the most popular activity in the park other than general sightseeing is probably hiking. You'll find many amazing trails throughout every region of the park as well as walks you can take on boardwalks over the geyser basins. There are also hikes you can take into the backcountry if you are prepared.
• Take a tour. There are quite a few different towards you can take in Yellowstone National Park. You can take a ride in one of the iconic bright yellow touring buses, or you can go out on a guided boat trip, or you can even take fishing lessons.
• Cycling. If you bring a bicycle with you, you can cycle along the road, as well as on a number of cycling trails throughout the park.
• Boating. While you can take one of the previously mentioned boat tours, you also have the option of bringing your own craft out on the lake. To do so, you will need to have your craft inspected and you will need to obtain a permit.
• Fishing. Fishing is an extremely popular activity in Yellowstone National Park. According to the NPS, around 50,000 people fish every single year in the park. Interestingly enough, fishing is actually encouraged by the Park Service due to the presence of invasive species that are disrupting the local ecosystem. You can help to restore balance by removing these non-native species from the lake and rivers. Protected species of fish of course must remain in Yellowstone's waters.
• Horseback riding. Horseback riding tours in the park are available, and those who own their own horses may bring them as well with a permit.
• Winter activities. If you are visiting the park in the wintertime, you will find that it is largely covered by snow. This means that it is the perfect winter wonderland to explore by cross-country skiing or snowshoeing. Special care must be taken close to hydrothermal features.
• Snowmobiles and snowcoaches. Most of the park is closed off to road traffic during the winter, so if you park your motorhome somewhere nearby and venture into the park, you will want to book a trip on a snowmobile or snow coach so that you can visit destinations such as Old Faithful which are otherwise inaccessible.
• Photography. Yellowstone is obviously an excellent destination for practicing photography. You can enjoy shooting anything from panoramic landscapes to wildlife shots to macros of geothermal features featuring mesmerizing colors and textures. Late afternoon is an excellent time to take photos as the shadows will help give relief to rock formations and hydrothermal features.
• Wildlife viewing. While Yellowstone National Park is famous for its hydrothermal features, it is arguably just as famous for its amazing wildlife diversity. Some of the animals which are park contains an abundance are bison, elk, coyotes, wolves, foxes, otters, and weasels. If you're very lucky, you might also spot a bear or even a moose. There are also around 150 different bird species which live in the park.
Where to Stay in Yellowstone in Your Motorhome
There are a number of different campgrounds where you can park your rented motorhome or campervan in Yellowstone National Park.
All of the sites below need to be reserved in advance (they usually fill up fast):
• Bridge Bay Campground. With 432 sites, this is one of the most sizable campgrounds you will find in Yellowstone. There is a dump station present, and generators are allowed between the hours of eight in the morning and eight at night. There are flush toilets. It is located near the East Entrance of the park, and is a good option if you plan on fishing and boating since it is right next to the Bridge Bay Marina. There is also a convenience store present.
• Canyon Campground. As the name suggests, this campground is located right near Yellowstone's famous Grand Canyon. This also puts it within convenient range of Mount Washburn as well as the stores, restaurants, and amenities located at Canyon Village. There are a total of 273 sites. Amenities include flush toilets, a laundry facility, showers, a dump station, and the ability to use generators from 8 AM to 8 PM.
• Fishing Bridge RV Park. You will find this campground close to Lake Yellowstone Hotel and the nearby general store and gift shops. As the name indicates, this campground is set aside specifically for those in motorhomes. 325 sites are available, and facilities include laundry, showers, flush toilets, a dump station, and the option to use your generators between 8 AM and 8 PM. One thing which is very helpful to know about this RV park is that it is the only one in the entirety of Yellowstone where you can get full hookups for water, electrical and sewer. There is also (somewhat) affordable food nearby.
• Grant Village Campground. This campground is in Grant Village, which is right by West Thumb geyser basin. You can enjoy both shade and an atmosphere of increased seclusion here thanks to ample foliage. There are nearby amenities at Grant Village, including food services, shops, a visitor center, a gas station, and a boat ramp. Other amenities at the campground include showers, laundry facilities, flush toilets, a dump station, picnic tables and fire pits. The same rules apply with generator use as do for the other campgrounds above. 430 sites are available for motorhomes and tents.
• Madison Campground. This campground is right near the West Entrance of the park, and is also pretty close to Old Faithful. There are 278 sites available along with flush toilets and a dump station. There are picnic tables, fire grates and food storage boxes. This is a great area for fly fishing as well as swimming (in the Firehole River). West Yellowstone just outside the gate is also a lovely little town with wide streets, easy parking, and many shops and restaurants.
The following campgrounds are first-come, first-serve:
• Indian Creek Campground. At this site, there are 10 spots which can accommodate motorhomes up to 35' and 35 spots which can accommodate motorhomes up to 30'. Vault toilets are available, but no dump station, and you may not use your generator. It's a great spot to park if you want to be in easy reach of Norris.
• Lewis Lake. At Lewis Lake, you may park your rented motorhome if it measures 25' or less. It is close to the south entrance, thus a good spot if you also want to visit the Tetons. There are vault toilets, but no dump station or generator use.
• Mammoth. Here you can park your motorhome if it measures 30' or under during the wintertime or 65' or under during the summertime. There are both vault and flush toilets, but no dump station. You can use your generator from 8 am to 8 pm.
• Norris. At this campground, there are just 5 spots for motorhomes measuring 30' or under, and there are 2 set aside for those which are 50' or under. There is no dump station, but there are flush toilets, and generator use is permitted.
• Pebble Creek: Want to get away from the crowds? Pebble Creek is situated right near the Northeast Entrance to the park. There are only 27 sites in the whole campground. No dump station or flush toilets are available, but there are vault toilets. You may not use your generator. The sites are pull-throughs, so you will need to see if they can accommodate your vehicle.
• Slough Creek: Want to stay right in the middle of Lamar Valley at a secluded campground with just 16 spots? Slough Creek offers 14 sites which can accommodate motorhomes as long as 30'. There is no dump station, but vault toilets are available. You may not use a generator.
• Tower Fall: Close to Tower Fall and the nearby general store, this campground has only 31 sites in total. You can park a motorhome here which is up to 30'. Smaller vehicles will have an easier time driving on the tight curve of the loop. There are vault toilets, no dump station, and no generator use. You'll be close to Roosevelt Lodge, Lamar Valley, and Dunraven Pass leading up to Mount Washburn.
What If It Is Wintertime?
As mentioned earlier, quite a bit of the park is buried in snow through the winter, so most of the campgrounds mentioned above are seasonal. Some of them are open for longer than others. Madison for example is open through part of October, and Lewis Lake is open until the start of November. One campground is open year-round, and that is Mammoth.
There are of course also campgrounds located outside the entrances to the park which are operated independently. The most convenient area to stay in would be near Gardiner north of the park. You'll want to rent a car so you can drive easily up into the park.
Helpful Pointers for a Yellowstone Motorhome Vacation
• Seriously think about cooking in your motorhome. There are vendors offering food throughout Yellowstone, but you will discover that most of them are on the pricey end, even those which are in the more "affordable" bracket. But if you are staying in a rented motorhome, you will have your own kitchen. So take full advantage of this feature. It will save you a lot of money, which might even allow you to extend your vacation.
• Don't miss out on the surrounding areas. While Yellowstone offers more than enough to see and do, there are many other fascinating destinations in the nearby area which are worth exploring. Consider checking out the Grand Tetons, the Beartooth Highway, and the Cody region.
• Always check the weather. Weather in Yellowstone can be unpredictable, and often changes rapidly or varies considerably across a relatively short distance. Bring layers of clothing, and avoid mountain passes in harsh weather. Also be aware that not all roads are necessarily appropriate for all vehicles.
• Keep your noise levels down. Yellowstone is a quiet, serene place where people come to get away from the noise of urban life. Be considerate of other guests and wildlife, especially in areas like Lamar Valley where bison, elk and other animals roam in abundance.
• Be aware that geothermal features and wildlife are dangerous. Many people assume that because bison look cute and fluffy, they are not dangerous. Actually, they can run up to 45 miles per hour, and they can be aggressive if you irritate them. As to geothermal features, you may see some animals walking in them, but that does not mean that you can do so safely. They are extremely hot, and also very acidic. Accidents result in painful death.
There's No Other Place Like It On Earth
For many people, a trip to Yellowstone National Park only happens once in a lifetime. So if you have a chance to take one, it is well worth the drive there and back. You'll behold some of the most beautiful scenery in the world along with unique geothermal features you won't experience anywhere else. You'll get up close and personal with bison, elk and other wildlife, and you'll be enchanted by a magical place unlike any other.