Planning a Campervan or Motorhome Trip to Badlands National Park
Recently I shared a guide for exploring Yellowstone National Park in a rented motorhome, campervan or 4WD vehicle, suggesting that despite the long drive, you put it on your bucket list if you fly into Salt Lake City, UT or Denver, CO.
Another park in the same general part of the world which is significantly closer to Denver is Badlands National Park, also referred to simply as "the Badlands."
Whereas Yellowstone is located in the northwest corner of Wyoming, Badlands National Park is located east of Wyoming in the western part of South Dakota. It is less than six hours away from Denver. You will definitely want to plan to enjoy a whole day there.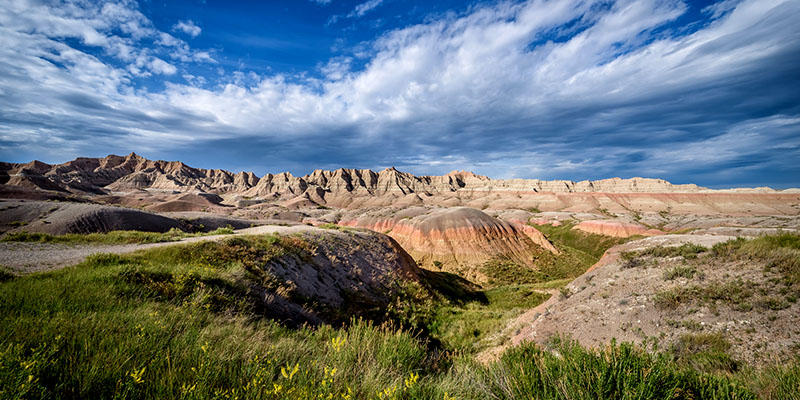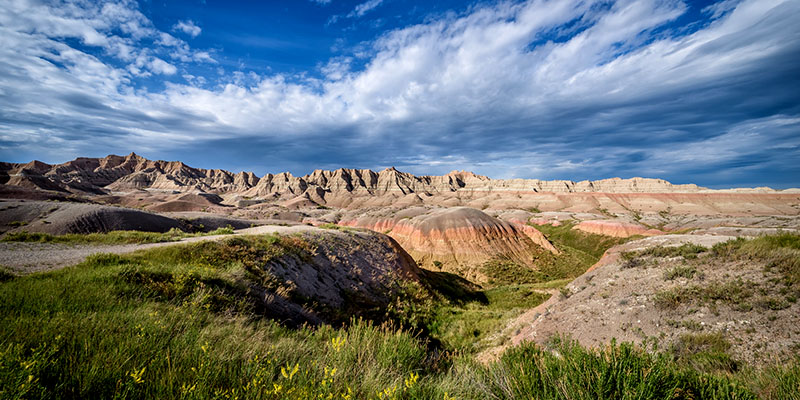 One of the Most Unusual Landscapes in the US
Badlands National Park is a relatively compact park, situated on 242,756 acres of protected land. As its name describes, it is a dramatic example of a geological feature known as "badlands."
Even though many people in the US refer to Badlands National Park as "the Badlands," there are actually badlands found throughout the world. Another famous example is the Valle de la Luna (Valley of the Moon) located in Argentina.
Badlands are characterized by deposits of soil rich in clay and sedimentary rock. Wind and water erosion have shaped these soft deposits in unusual ways.
There are many possible ways to describe the finished effect, but one of the easiest is this. Picture a rugged mountain range dominated by high, sheer cliff faces and exposed bands of color (reds, oranges and similar shades) such as those which you may find in the desert.
Now, scale that mountain range down so that it seems unnaturally small, almost as if it has been miniaturized, and pave a road through and around it. That is kind of what Badlands National Park is like—like visiting a rock formation that gives the illusion of being a miniature mountain range. The effect is surreal, and the landscape seems quite alien.
What to See at the Badlands
As the Badlands isn't a very big park, there isn't really an extensive list of specific sites to check out.
Instead, you'll just want to get on the Highway 240 Loop Road and drive around the park. This will allow you to enjoy stunning views of much of the park.
To learn more about the park's geology, flora and fauna, you can also drop by the Ben Reifel Visitor Center. Along with exhibits, you'll find a bookstore here as well as information on ranger programs.
Those with an interest in paleontology will want to drop by the Fossil Preparation Lab. Conveniently located right inside the visitor center, it is open through the summer months.
While many people explore the Badlands by car, many others enjoy doing so on foot. Here are some hiking trails to check out:
• Door Trail. Located on the eastern side of the park, this easy trail takes you across a quarter mile of boardwalk. The trail takes its name from the "Door," which is a gap in the feature known as the "Badlands Wall." While walking on the trail, you get to pass through the Door to see what lies beyond.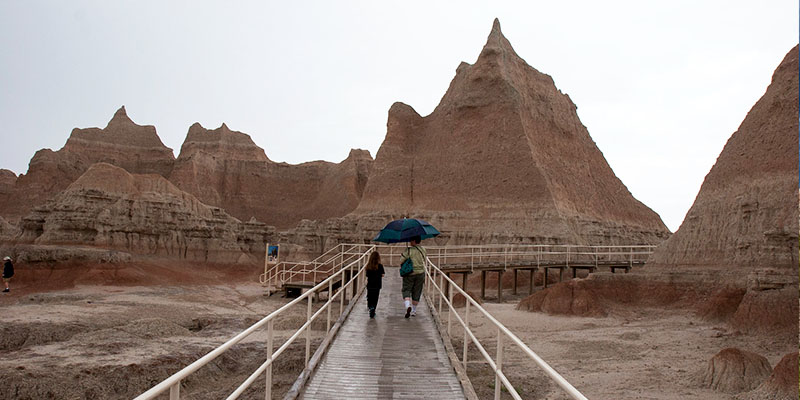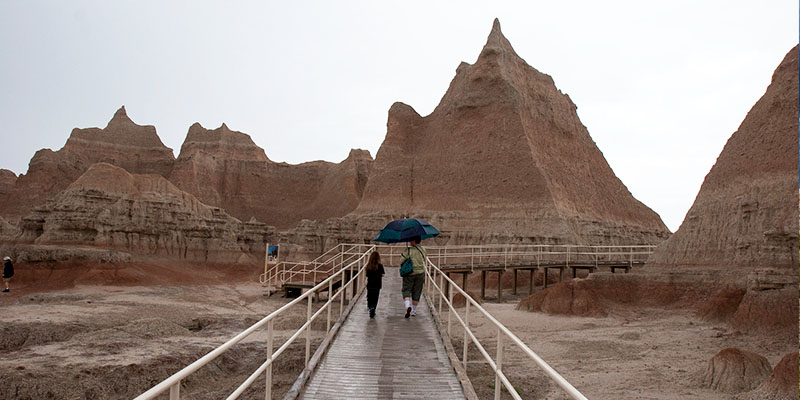 • Window Trail. This easy hike is just south of the Door Trail. Just as the Door trail leads through a "door," this one leads to a "window" in the same wall.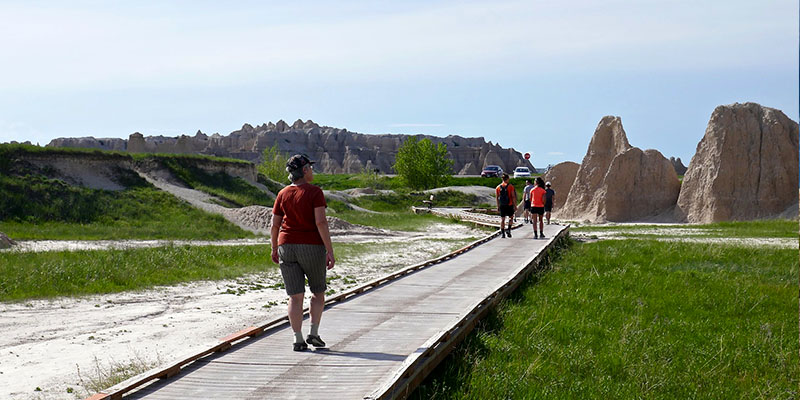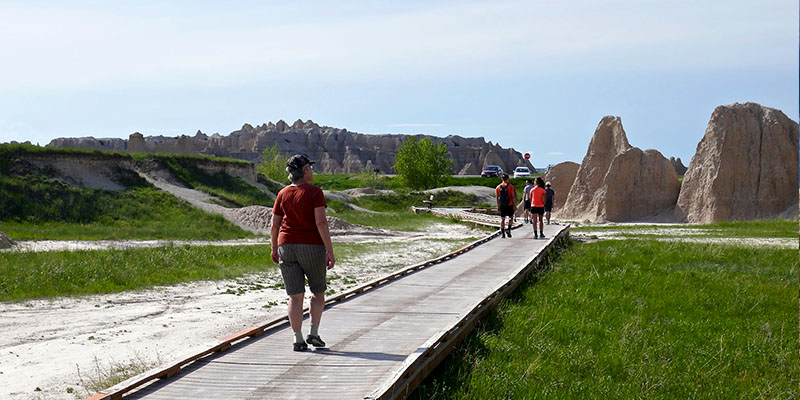 • Notch Trail. Those feeling a bit more adventurous can find this trail just south of the Window Trail. It requires moderate effort, but some hikers may find it quite taxing. Journey through a canyon and up a ladder made of logs to reach "the Notch." Standing atop this ledge, you can take in quite a vista. The trail is a 1.5 mile round trip.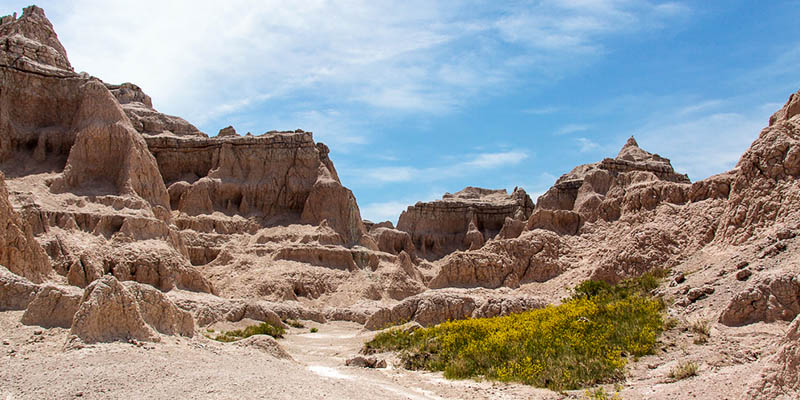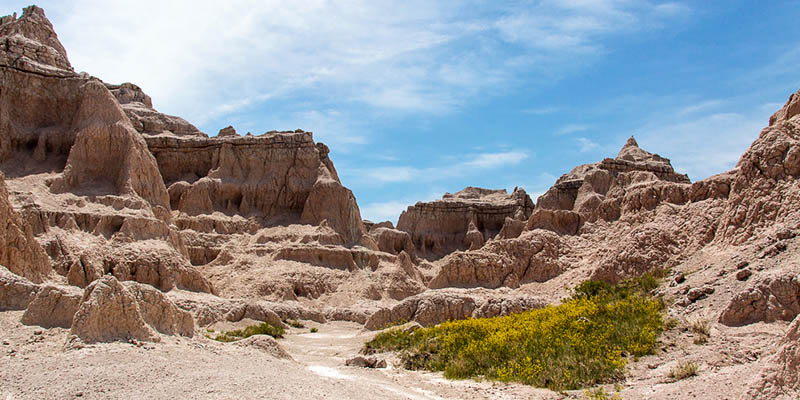 • Cliff Shelf Nature Trail. You'll find this moderately difficult half mile trail south of the Notch Trail. It's a good choice if you're hoping to spot some of the park's wildlife and enjoy a bit of greenery.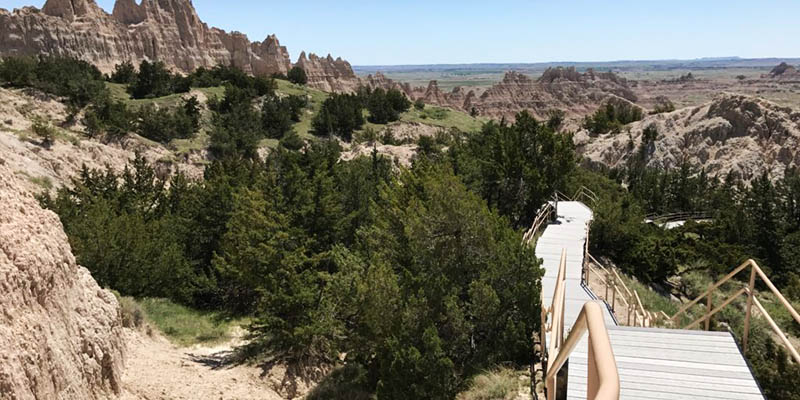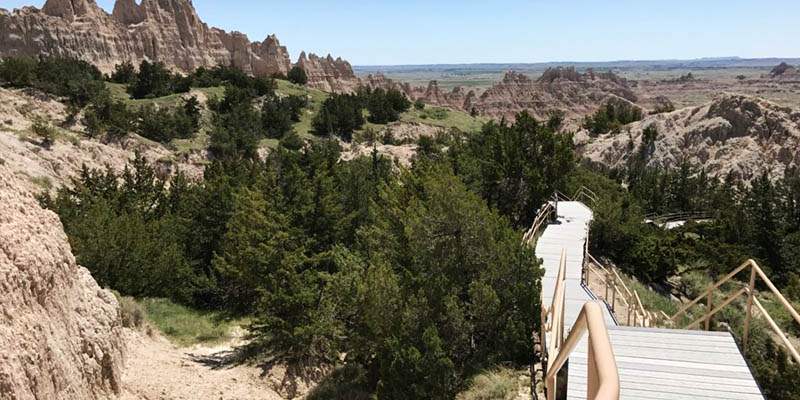 • Castle Trail. Near the Door Trail is the 10 mile round trip Castle Trail. While the trail is described as being only moderately difficult, it does require quite a bit of stamina due to its length.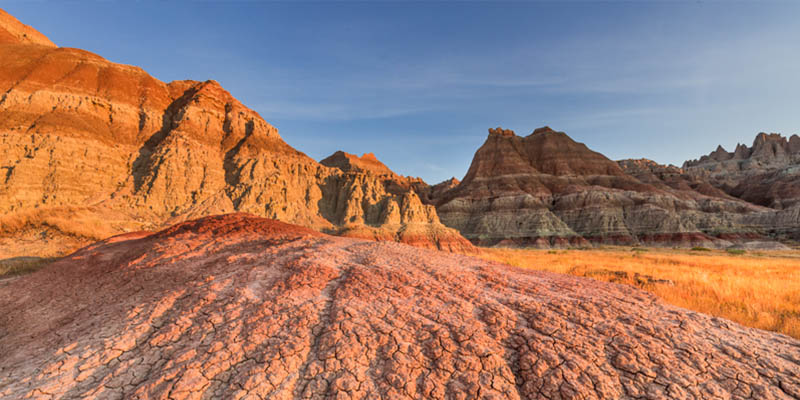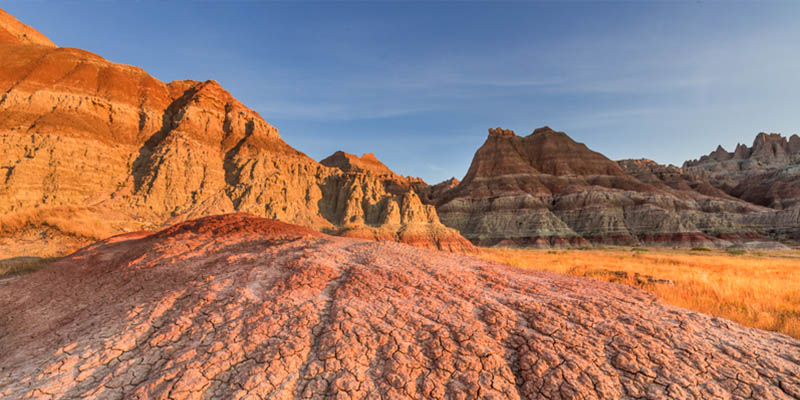 • Medicine Root Loop. Another of the park's longer trails is the Medicine Root Loop, spanning 4 miles and being of moderate difficulty. Explore the prairie while looking out at the rock formations.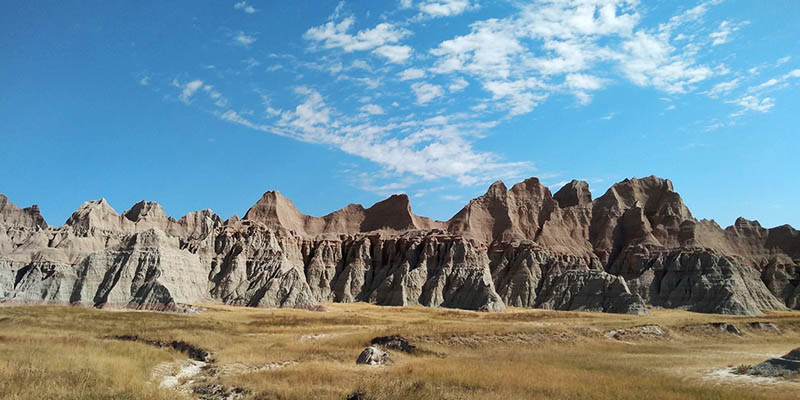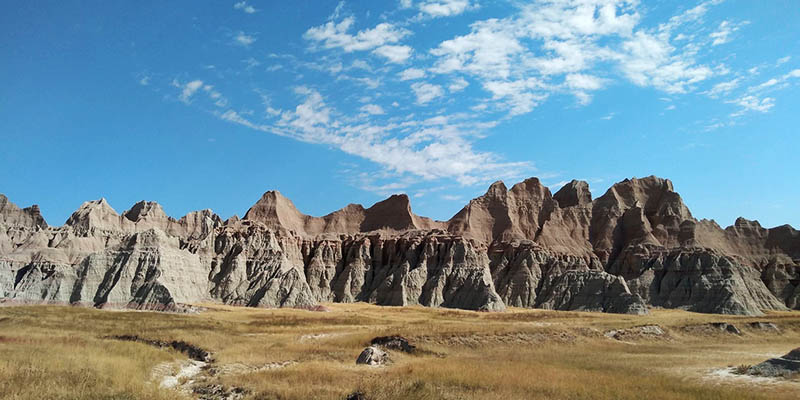 • Saddle Pass Trail. This trail links the Medicine Root Loop and the Castle Trail back to the road. Be prepared to exert yourself, as you'll be mounting the Wall for a spectacular overlook of the valley.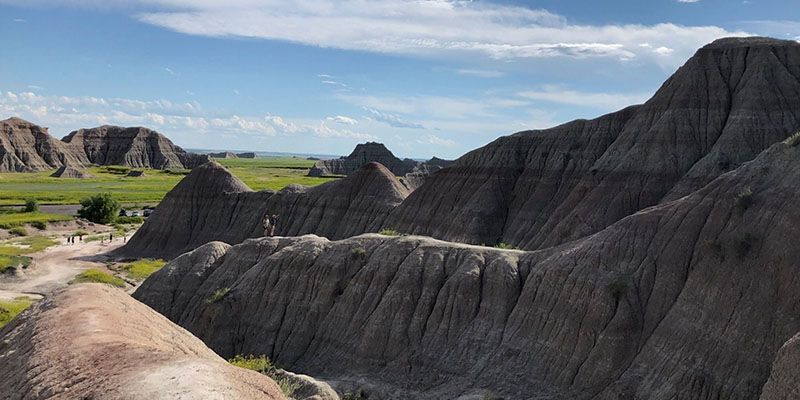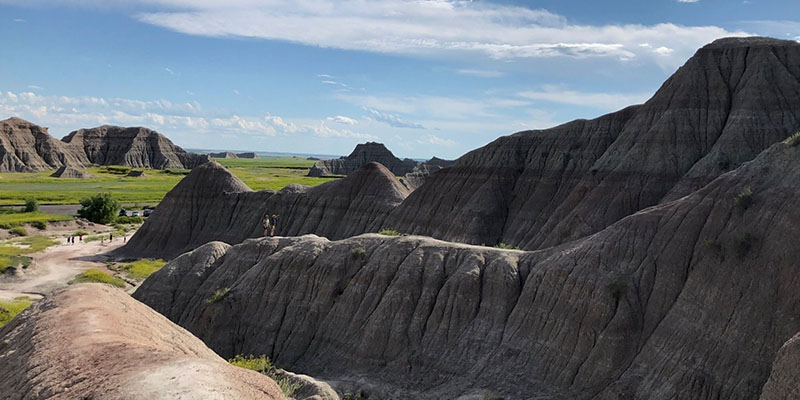 • Fossil Exhibit Trail. This is an easy boardwalk hike across a quarter mile where you can learn about the prehistoric past of the Badlands through a series of exhibits.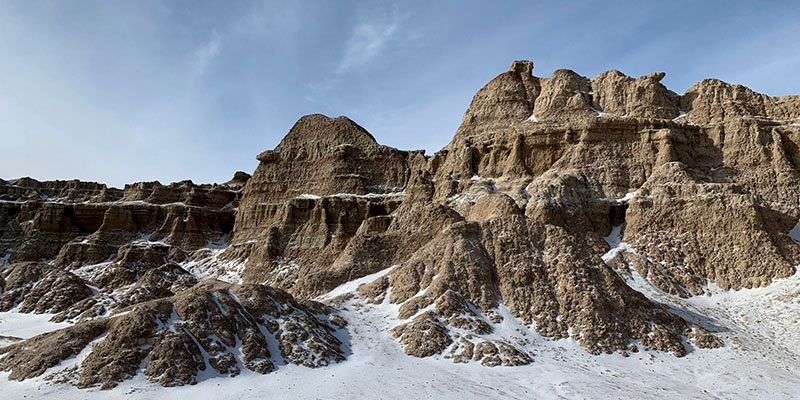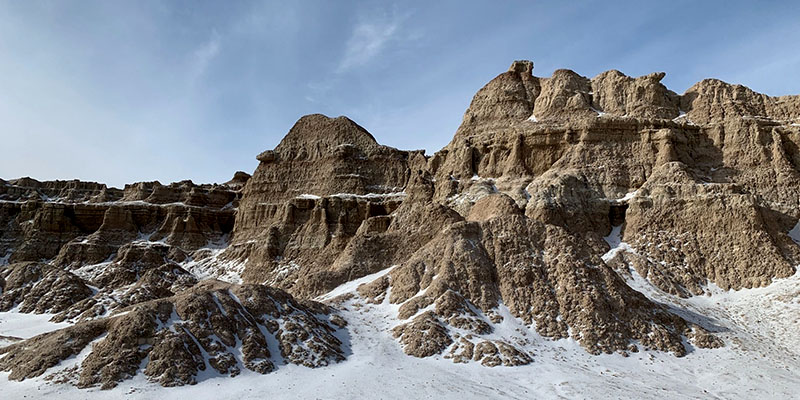 Badlands Activities
Here are some things to do while you're visiting the Badlands:
• Hike. Take some of the aforementioned trails to explore the park. Since trails range from easy to difficult, there is something for everyone.
• Drive. If you are pressed for time, a drive around the park doesn't take long, and it allows you to see quite a lot.
• Cycle. Want to get out of your car, but stay on the Loop Road? You can cycle on the road as well, which can be an amazing experience.
• Participate in a ranger-led program such as the Night Sky Observing sessions run during the summer.
• Take part in a special event like the Badlands Astronomy Festival, Discover Badlands, Badlands Heritage Celebration, National Park Week, or Founder's Day.
• Camp in the backcountry. While you can sleep comfortably in your motorhome or campervan, you might want to think about spending at least one night out under the stars in the Badlands backcountry. There is no experience quite like it.
• Take photographs. The Badlands offer a fabulous opportunity to take amazing photographs. All the contours and colors around you transform throughout the day as the sun rises and falls, allowing you to play with light and shadow.
• Watch wildlife. The Badlands may look barren, but a surprisingly large number of animal species call the area home. These include bison, mule deer, prairie dogs, lizards, snakes, turtles, and more. If you want the chance to spot a lot of prairie dogs in one place, swing by Roberts Prairie Dog Town in the northern part of the park.
You'll also notice about a hundred (I'm hardly exaggerating) signs for Wall Drug on the way to the Badlands. If you are curious, you can drop by the nearby town of Wall to see it.
Wall Drug started out as a modest pharmacy in 1931. When owner Ted Hustead's wife suggested offering free ice water to people traveling through the region to Mount Rushmore, business exploded. Wall Drug is now a kind of shopping mall with a single operator, drawing in millions of tourists every year. You can get free ice water there to this day along with cheap coffee.
Where to Stay at the Badlands in Your Motorhome
If you want to stay at the park overnight (which is highly recommended), here are your options in your motorhome, campervan or 4WD camper.
Cedar Pass Campground
This campground is conveniently close to the visitor center, and is open from April through October. It has 96 sites in total.
Electrical hookups are available, as is a dump station. These spots are a little more expensive than those without hookups, but still quite reasonable. You also will have access to flush toilets, cold water, and picnic tables. You will want to phone in advance to place a reservation.
Sage Creek Campground
If you are visiting the park in a vehicle which is 18 feet in length or under, you have the option of staying at Sage Creek Campground. Note that there is no water at the campground, but there is at the Pinnacles Entrance Station nearby. The campground also offers picnic tables and pit toilets.
While there is no fee and you cannot place reservations, you will want to get there early, since spaces can fill fast. You may not build a fire on the ground or use your generator.
If you are unable to find space to stay at the park itself, there are some nearby RV parks run by private companies which you can check into. With these parks, it is wise to call ahead and make a booking so that you are assured of a space.
Enjoy One of the World's Most Fascinating Geological Sites
Now you know all about what you can expect if you pay a visit to Badlands National Park in your motorhome or campervan rental. You'll be able to explore one of the most spectacular and unusual geological sites in the world. Whether you go hiking, cycling, or driving through the park, you'll come away with an experience you'll never forget.